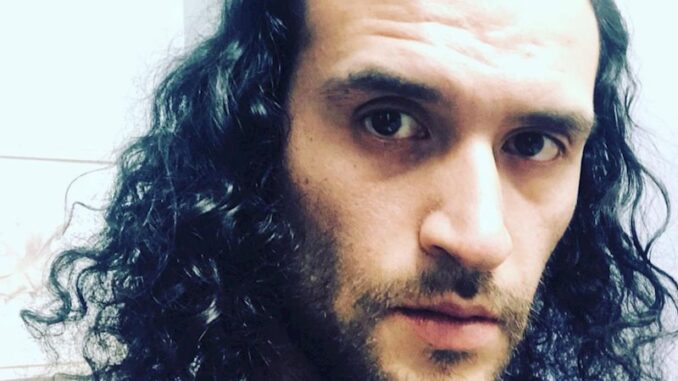 Album Review: Antimozdebeast - Vision
Reviewed by Dan Barnes
Vision is a compilation of the more experimental side of Gabriel Palacio's electronic-industrial solo project, AntiMozdeBeast. Gabriel seems to have been the epitome of hard work, having created AntiMozdeBeast in 2019 and already issuing nine releases under that name, as well as relocating from native his New York to the sunnier climes of Florida.
Rather than selecting any particular running order – such as by chronology – Vision seems to be more a thematic journey through the artist's ideas. Beginning with Masquerade of Death from the 2019 album, The Ritual, AntiMozdeBeastinstantly introduce the absolute insanity you will encounter through this collection. Heavy dance beats are only the start; throughout you are guided through an aural labyrinth of disperate, dissonant sounds: be they insane electronica, acoustic guitar, even 8-bit beeps. All contribute to the waves of discordant noise, forced together, all the while they are accompanied by a ghoulish vocal.
Those same heavy dance beats can be heard across the likes of Shadow Upon the Earth and Sins of the Muse, which also utilises a distinctly Hawkwind-esque vocal presentation.Slightly less heavy on the dance beats, but no less fragmented and angular is Maladies of the Mad which alternates constantly between sequencers and guitar, demonstrating how two very different instruments can complement each other.
Although Vision showcases AntiMozdeBeast's sound, it does so drawing against a wider palette. Still raw in the vocal department, Rebirth of Sin occupies a more Trance sound, incorporating some tribal rhythms along the way; those Trance elements can be heard in a more pop-oriented fashion on Sky Unfurled or the more cosmic noise of Contours of Her Body.
Whichever subgenre of Electronica Gabriel turns his mind to he imbues it with a sound unmistakably AntiMozdeBeast. Even when he forges his own path, as on the unforgiving Portrait of the Apocalypse, which truly lives up to its name, or the dissonant Untitled, which progresses with a schizophrenic and skittish abandonment of melody.
On the whole, everything really leads to Blood Note, from the 2020 record The Edge, The Outskirts and The Mountain, when all of the many and varied elements come together; opening with a touch of Eighties Electronic Euro-Pop against a militaristic beat and a hint of the ethereal. At eight-minutes-plus this one really does crank the insanity up to eleven.
Leaving the oldest track on offer here to close out the record. ICRI, taken from 2019's self-titled debut, opens like a Cecil B. DeMille epic, carrying on with dark proclamations made against a droning progression.
In making this selection AntiMozdeBeast have visited all but two of their albums, omitting tracks from The Red River and Mother Earth, but have included enough to pique the interest of anyone with a taste for the industrial and yet to have encountered the artist before.
Be warned: this is no stroll in the park; rather an after dark sortie through a dangerous urban landscape. Be afraid, be very afraid.