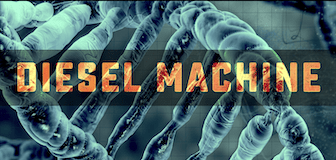 Album Review: Diesel Machine - Evolve
Reviewed by Carl Black
Cast your minds back to a different age. When Rob Halford was not in Judas Priest, Bruce Dickinson was not in Iron Maiden, heavier music such as thrash was seeing its last stage divers (due to thinning crowds), glam metal had reached the bottom of the hair spray bottle and the hills were alive with the sound of good, bad and indifferent grunge with any band hailing from Seattle being signed and paraded up and down the musical media in the vain search for the next big thing.
Enter Diesel Machine. Formed in the middle of this crossways for heavier music, they released one album in 2000 titled 'Torture Test' and if not for a cruel twist of fate, would have joined Drowning Pool, Shadows Fall and Mudvayne on the lower end of many an Ozzfest bill. However, Diesel Machine's bass player, Rich Gonzales, was severely injured in a car accident. This disadvantaged the band, as was, and the individual members went their separate musical ways whilst Rich was convalescing. Shane Gaalaas (drums) stayed in music and played in smaller bands in and around the scene, AJ Cavalier (vocals) was hired as the frontman of Soil and Patrick Lachman (guitar) was thrust into the limelight as the frontman for Damageplan.
Twenty or so years later, with so much musical water under the bridge and Rich Gonzales making a full recovery, it's time to set the record straight and take care of the Diesel Machine's unfinished business with the release of their second album, 'Evolve'. The tracks come thick and fast and they touch on a lot of the musical landscape, if we were still living in the mid 90's. 'Death March' is a cracking nu-metal song that opens the album, react is as good, if not better than anything from the clutch of bands who became household names back in that time. 'Ounce of Strength' hints at hard-core (Freddie from Madball must have been pencilled in to guest on this one). We also get slower songs in the shape of 'Exit Wounds', and more technical riffs and arrangements on 'Judgement'.
'Evolve' is like a time capsule, perfectly preserved from a by gone era. It's like it's been recorded yesterday…and that's because it has been. I feel for the band, as they could have been contenders, they could have been someone, if this here bull had a stage, on which to rage. Unfortunately, they have a twenty-year gap between albums, a musical landscape that has shifted monumentally and this is potentially the classic story of the one that got away. Hopefully not, as these songs are well written and played fantastically well.