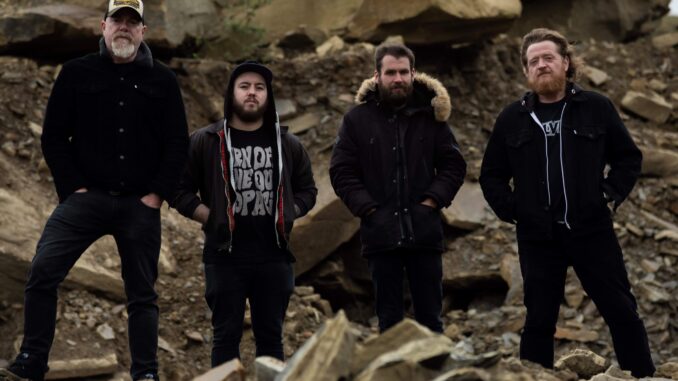 Album Review: Psychlona - Venus Skytrip
Reviewed by Paul Hutchings
Strap yourselves in for one of the rides of 2020. Forcing through their second album, Yorkshire space rocker Psychlona have followed up on debut 'Mojo Rising' with a foot stomping record that brings the groove in spades. If you like your desert rock, then there is no reason on this planet why you won't be dancing along to the Bradford four-piece and their driving beats.
Having formed in 2015 and finally sorted their line-up by late summer 2018, the band released their debut on Ripple Music and Cursed Tongue Records. Since those exciting times Psychlona have driven the spaceship to events such as Desertfest, Denmark's Fuzztival and HRH Doom vs Stoner. Locking themselves away in late 2019, the band emerged blinking into the sunlight to find the world had gone to shit! Having managed to get the album recorded by March, it was a case of getting the final touches completed which they managed (we won't ask how). Despite losing several gigs, Psychlona have pushed on with the release of 'Venus Skytrip'.
And it's a good job they did because music this good needs to be heard. Despite the genre often producing bands that repeat the one riff with alarming regularity, Psychlona's groove provides masses of variety. The pulsing pace of the opening song, 'Blast Off', contrasts with the more meandering '10,000 Volts' whilst the stomp of 'Blow' reminds you of the early days of The Sword. It's dirty, it's gnarly but above all its intensely enjoyable.
A tale of a year of space travel through several planetary systems, fuelled by kebabs, beer, and Yorkshire Tea, Psychlona draw on everything from Hawkwind to Monster Magnet and all stations in between. 'Star' for example, has the Spacelords circa 1973 as its reference point and I'll fight anyone who has a bad word to say about Dave Brock and crew. 'Star' is full of Martyn's driving bass, the soaring vocals of Phil and Dave's lead guitar, all anchored by the solid engine that is drummer Scott whose use of the cowbell is inspired.
The sound is massive, the power indicator set to go. Blasting 'Tijuana' through the sound system caused me to close the eyes and visualise the band rocketing through space, as the track enveloped and seared all around me. After seven masterful songs we arrived at 'The Owl', a glorious nine-minute acid trip. Huge drums (what a sound) dominate without overpowering as Psychlona bring this immense release to a thrilling finale.
With album number 3 being sketched out already, psychlona's future is brighter than the stars they circle.
'Venus Skytrip' is a retro sounding record which sits comfortably in modern times. It is released on 21st August via Ripple Music.