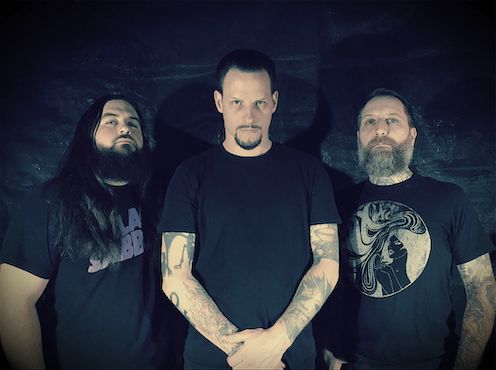 Album Review: Brimstone Coven - The Woes Of A Mortal Earth
Reviewed by Paul Hutchings
I've got a lot of time for Brimstone Coven. 2016's 'Black Magic' and 2018's 'What Was and What Shall Be' were both hugely enjoyable. Delivering dark occult rock of a high quality, the trio from Eastern Ohio have returned with their fourth release and their second album as a three-piece continues the progression.
Having been formed in 2011 by vocalist/guitarist/songwriter Corey Roth, the line-up was completed by John Williams (vocals), Andrew D'Cagna (bass) and Justin Wood (drums). An EP, debut full length and a deal with Metal Blade followed before Williams and Wood parted ways in 2017 along with the departure from Metal Blade. After touring 'What Was and What Shall Be', the band regrouped in 2019 and entered the studio in early 2020. 'The Woes of a Mortal Earth' is their darkest sounding album to date.
Opening with 'The Inferno', the classic seventies feel is apparent immediately, the blend of Sabbath, Pentagram, Floyd, and Zeppelin returning like a welcome friend. Roth's vocals hold a warmth that contrast with the darker feel of the songs, whilst the underlying groove and steady riffs ensure maximum retro feel with a contemporary balance. A deeper, heavier atmosphere envelops 'When the World is Gone', with use of emotion and feeling providing the heaviness without the need for crashing riffs. Brimstone Coven are expert at utilizing their sound for maximum result, the sinister 'Live with a Ghost' a prime example. A chunky riff, slow yet deeply heavy drum and pulsing bass all combine into a big, haunting track.
To complete the blackness, the closing track is the funereal style seven-minute march, 'Song of Whippoorwill', which legend suggested was an omen of death. At 35 minutes in length, 'The Woes of A Mortal Earth' relies on quality over quantity. It may be bleak subject matter, but there is much to enjoy in an album that continues the progress of a stellar band.
'The Woes Of A Mortal Earth' is released via Ripple Music on August 21st.