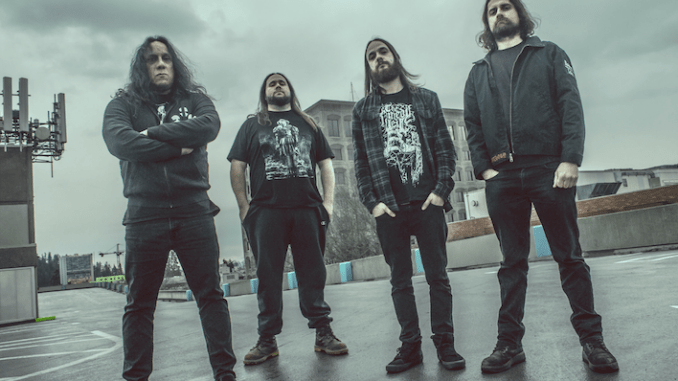 Album Review: Psychosomatic – The Invisible Prison
Reviewed by Gareth Pugh
It amazes me sometimes, after being into metal for 35 odd years, the number of bands that I've never come across, take Psychosomatic for instance, formed in 1988, with 6 previous full lengths and a few EPs to their name. And I'd never heard of them until album number 7; 'The Invisible Prison', landed in my inbox. Now a four piece, they have also had a fair amount of line-up changes in the past, swapping between being a 4 and 3 piece and back again, with the only constant ha been bassist/vocalist/front man Jeff Salgado.
Produced by Havok main man David Sanchez, (who also makes a guest appearance on the track 'Fortune Dealer'), the production is great, perfect for this type of thrash, slightly greasy, almost a bit sleazy even, with a dirty guitar sound, certainly not over processed. It's almost got that rehearsal room vibe to it, and although the band are nice and tight, there is also a natural, loose feel to the sound.
Comprising of 12 tracks of crossover thrash with a hint of death metal, one of which is a cover of Vio-lence's 'Serial Killer'. Most of the tracks are around the 2 to 3 and a half minute mark, so every song is a one, two punch to the face, with little excess. Occasionally the band introduces a bit of variety, as in the intro to 'Pandora's Crate', with a cool heavy crushing riff and an evil sounding clean part, before bouncing off into up-tempo heaven, the aforementioned 'Fortune Dealer' is fast and catchy and benefits from Sanchez's screams. 'Highbinder' also stands out for its herky-jerky riffing and start-stop refrain. 'Serial Killer' is a well-done cover version, but it's a fairly standard run through, it's good, but I prefer the original by some margin. In fact that sort of sums up the whole album, it's good, and quite enjoyable while listening to it, in fact it's a great driving album, and if you enjoy either of the singles, 'We Don't Trust You' or 'Fortune Dealer', it might be worth checking the rest of the album out, but if I'm brutally honest, I'm probably not going to be reaching for it very often for repeat plays.
'The Invisible Prison' is released via Nefarious Industries on August 28th.