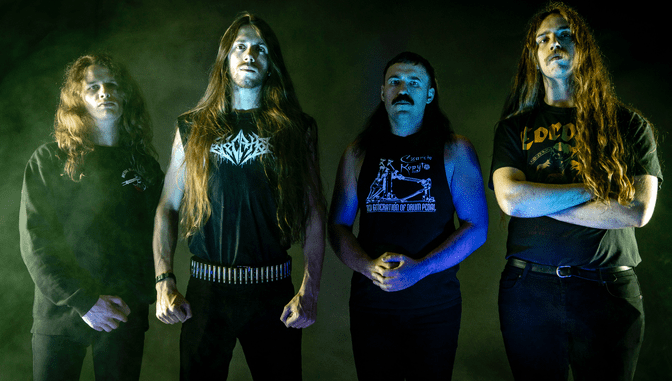 Live Review: Cryptic Shift - Fuel Rock Club, Cardiff
6th September 2021
Supt. Excursia and Helldown
Review and live photos by Paul Hutchings
May 4th, 2020, saw a seismic shift in the galaxies as Leeds based technical plasma firing death metal outfit Cryptic Shift released their stunning 'Visitations from Enceladus' album. The band had managed one gig in 2020 with their new line-up, Joss Farrington of Bristol death thrashers Seprevation replacing guitarist Joe Bradley. 16 months on and the band were finally able to tour this mighty album, playing the release in full.
Monday nights are never great for gigs and Cardiff's metal forces were rather limited in number at the premier rock club in the Welsh capital. It was up to Caerphilly thrashers Excursia to open the night up, albeit rather late due to some technical challenges with the sound. Excurisa are 'Moshing the Roof On vol 1' alumni, but on this showing, it'll be difficult to see them appearing on a future volume. Whilst the band are still relatively young, this was a ragged showing with little to enthuse about. New bassist Scott Price seems to have slotted in well, plugging those bottom strings but drummer Dylan Jarvis might do better concentrating on his drumming rather than banter and rage. All in all, one of the poorest shows I've seen from the band. Whether it was the prolonged build up which affected them I'm not sure. Whatever, there was no excuse for their decision to cover Limp Bizkit's 'Break Stuff' which had the assembled metal heads smirking into their beers.
Swansea's Helldown followed and provided a beefy 40 minutes of Slayer and Metallica influenced thrash. The band released their EP 'In Death's hands' early in 2020. It was a solid affair. If a little too close the thrash metal copybook. Live, the band provide a big sound, with frontman Ben Evans once again the focus of the attention. His vocals remain a little one-dimensional, but Helldown do routine thrash well and tracks such as 'Heretic' and 'Mortal Shell' are perfectly listenable. The band have a 'big' look, all four members well-built and filling the stage with a physical presence. Whilst I wouldn't go far to watch them, I certainly wouldn't dismiss them for some standard but pleasing thrash fare.
An agonising 20 minutes passed as Cryptic Shift negotiated with the novice sound engineer to get levels and sound to a point which could do justice to their intricate music. At this point its worth pointing out that the new person on the mixing desk had been let down at the last minute, and he did his best on a very stressful evening for him. I'm certainly not knocking him; he did an admirable job despite everything thrown at him.
Finally Cryptic Shift launched into the full play through of' Visitations from Enceladus'. Opening track 'Moonbelt Immolator' is an immensely complex and varied track, clocking in at a mere 25 minutes long. Whilst the Fuel sound system coped admirably, there were bumps and jolts along the way; frantic tugging on cables and pedals didn't help with the fluidity but it was evident that this is a band who Metal Blade haven't taken a punt on. They know what Cryptic Shift are about. With drummer Ryan Shepherson blast beating in the back, eyes were inevitably focused on frontman Xander Bradley, who roars with real venom as well as shredding like an animal, ably supported by Farrington whilst bassist John Riley was no mean slouch in his ferocious and at times incredibly fast fretwork.
'Moonbelt Immolator' is comprised six parts, after which the band completed the album with the three remaining tracks, '(Perturbed in the) Hypogean Gaol', 'The Artic Chasm' and concluding with the skull fracture of 'Planetary Hypnosis'. It was spellbinding stuff and totally absorbing for the 45 minutes or so they were on stage and the small but lively crowd certainly provided a decent reception from start to finish. Another band whose stock is surely rising with this tour, if you haven't listened to 'Visitations' yet, you really should. And then hope you have a ticket for Damnation Festival where the band will play on home turf. It should be something special.
Live photo credits: Paul Hutchings