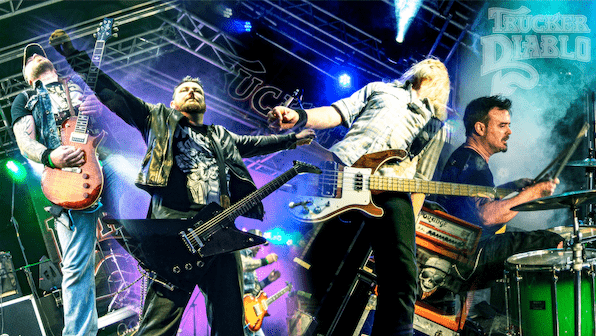 Album Review: Trucker Diablo - Tail End Of A Hurricane
Reviewed by Paul Hutchings
It's possible that Trucker Diablo saved my marriage. Steelhouse Festival 2017 saw rain of biblical proportions, but the Friday night saw Trucker Diablo and many beers rescue the event and restore faith to Mrs H in my previous protestations that it would be a brilliant weekend. The four-piece from Northern Ireland are the exact band you need when it's pissing down with rain. Full of big riffs, anthemic choruses and feelgood singalong songs, the boys from Armagh have been doing it for over a decade now. Led by vocalist and lead guitarist Tom Harte, 'Tail End of the Hurricane' is their fifth record and their first since 2017's self-released 'Fighting for Everything'.
Alongside the first pumping anthems, there are a couple of curved balls which sit slightly less easily in the Trucker stable. 'Insects' sees the band grabbing a pop-punk vibe, with faster, driving riffing and pumping adrenaline fuelled energy. It's a departure from their big, chunky style but one that works well. Harte's clear, melodious vocals are well suited to the songs that Trucker serve up and no where is that more evident than on the bouncing opener 'BTKOR'. The big truck is indeed back and rolling once more!
There is inevitably a bit of cheese. I'm not a fan of the band's 'Rock Kids of the 80's', which is cliched and throwaway but seems to have gone down well with the band's fan base. 'The Edge of Tonight' steers into the melodic ballad territory which Trucker deliver well but which is never going to excite me.
What Trucker Diablo do best is the solid, riff driven hard rock. 'The Trade' smoulders in the best Southern Skynyrd and Blackfoot tradition, 'Set the Night on Fire' is full of melody and those delicious harmonies that are one of the band's trademark sounds, whilst the album finishes strongly with the short 'Slow Dance' with its hidden Eagles riff ('Life in the Fast Lane' anyone?) and the finale of the brooding 'Bury the Ocean'.
It's been a tough time for Trucker Diablo, like most bands over the past few years but this album is a welcome return to one of Northern Ireland's most exciting bands.