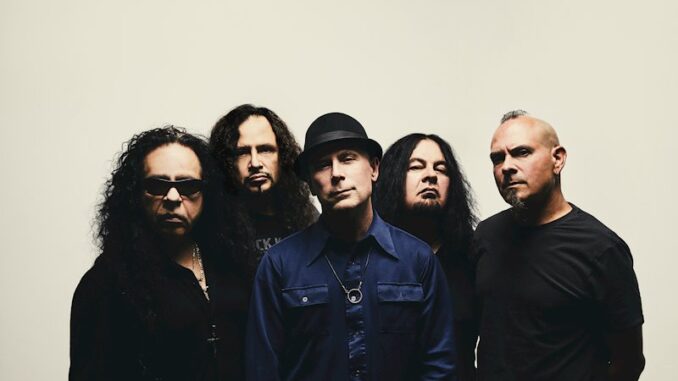 Album Review: Armored Saint - Punching The Sky
Reviewed by Gareth Pugh
Armored Saint, much like Metal Church, are always in a seemingly constant discussion by metal fans, are they a power metal band, are they a melodic thrash band, a classic heavy metal band? Well, whatever! For me they are just a great metal band, that happens to occasionally use elements from all of the above genres. They also don't really know how to release a bad album, and thankfully with 'Punching the Sky' that impressive reputation is still very much intact, in fact if anything they've upped the ante somewhat.
I love the way this album starts, starting from nothing, and building, it's so atmospheric, there is so much going on, and all manner of different instruments, there's definitely bagpipes, and maybe even a didgeridoo, panning left then right, and every time I hear it, it sends shivers up and down my spine. This segues nicely into the first track proper; 'Standing on the Shoulders of Giants', this is the track that the album gets its name from, the track builds from it's fantastic intro, into a real beast of a song, massive guitar chords, drums like rolling thunder and Joeys ever solid bass underpinning the lot, and then one of the most recognised voices in metal cuts in, John Bushes familiar, melodic, yet still a bit gruff vocals. This is a huge opening number, a simply stunning track.
They follow it up with the lead single, the equally impressive 'End of the Attention Span', what a title that is, if you haven't heard it, you're in for a real treat. So good are those opening duo, I was a bit anxious that the album was going to be front loaded. No need to worry, there isn't a weak track on offer, and whatever type of song floats your boat, the band has it covered. You like something a bit faster? 'Missile to Gun' is the one for you, the band up the tempo and aggression, without compromising the catchy hooks or chorus. You prefer something slower and dripping with emotion, try 'Unfair' an unpretentious ballad like song, but done the right way, with a fair hint of 90's Seattle. If you like hooks, look no further than one of my personal favourites; 'Fly in the Ointment', a chorus that is guaranteed to stick in your head for days. 'Do Wrong to Nine' and 'Lone Wolf' up the heaviness, the later with a twisting, spiralling riff and another chorus designed to stick in the brain. In fact, the only track I wasn't entirely sure about after the first few listens was 'Bubble', the chorus seemed a little bit forced, but another few spins soon settled that out.
If you like solid, quality song writing, exemplary performances and sublime production , this is the album for you, like a fine wine Armored Saint just get better with age, they aren't exactly the same band from the 80's, they've grown and matured, and this album is a classic and yet contemporary at the same time. I can't recommend it highly enough. Enjoy a top album, from one of the genres most talented and slightly underrated bands. Top marks.