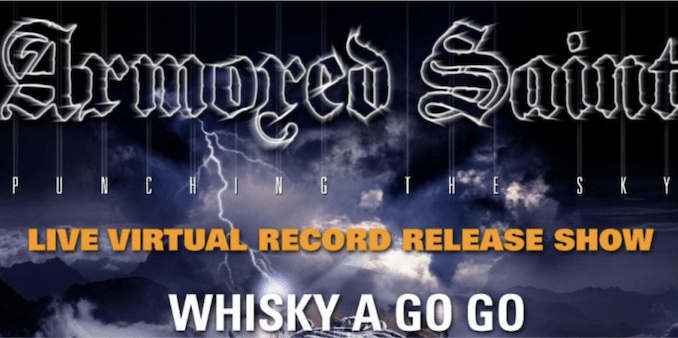 Live Review: Armored Saint - Live At The Whiskey-A-Go-Go [Stream]
10th October 2020
Review Paul Hutchings.
I hate the phrase 'new normal'. There is truly little about the current situation that I have any desire to adopt as routine. Meeting friends in the pub, travelling on holiday, even going to the bloody library. All things that I currently cannot do. And most of all, I don't ever want to accept that bands that I love will be reduced to playing empty venues whilst we all watch like voyeurs having paid our 'admission fee'. But whilst the world continues to go to hell in a hand cart, that's what we are forced to do.
Luckily, metal bands seem able to pick up the baton and run with the concept in the short term. With their eighth album due for release, Armored Saint occupied the famous Whisky-A-Go-Go in Hollywood for their live virtual record release show and made a bloody good fist of it. Despite the absence of audience, Saint's energy levels were fired from the start. Kicking off with new song 'Never You Fret' from ' Punching the Sky', one of four new songs that the band debuted during their 12-song set, it wasn't long before singer John Bush was mopping his brow, whilst the other members of the band were also warming up nicely.
Spreading their set from across the years, it was fantastic to see Armored Saint on such form. Drummer Gonzo Sanoval was unable to refrain from punching the air, whilst Bush spun around and back and fore as the songs unfolded. Bassist Joey Vera kept the rhythm locked whilst Jeff Duncan and Phil Sandoval traded solos and dished out riff after riff. The set sped by, with Bush commenting on how apt the track 'Isolation' was now. Banter was unsurprisingly kept to a minimum, but Bush encouraged the viewing fans to have a beer in the living room. The rare appearance of 'On The Way' from the early eponymous titled EP in 1984 was a pleasing addition and with the band on fire and clearly enjoying themselves, it was suddenly time for the final track, 'Can U Deliver' from that debut album 'March of the Saint'. Back in 1985 it was unlikely that this track would have been about pizza but in another link to coronavirus, Bush joked that this was the phrase for 2020.
Armored Saint have always been a fantastic live band and this set, despite all the sterility and artificialness of this event, the band gave everything. The four new songs sounded brilliant and as someone who's already heard the new album, I can heartily recommend getting stuck into 'Punching the Sky' when it drops on 23rd October.
SETLIST
Never You Fret
Pay Dirt
Mess
For the Sake of Heaviness
End of the Attention Span
On The Way
Isolation
Standing on the Shoulders of Giants
Missile to Gun
Left Hook From Right Field
Reign of Fire
Can U Deliver