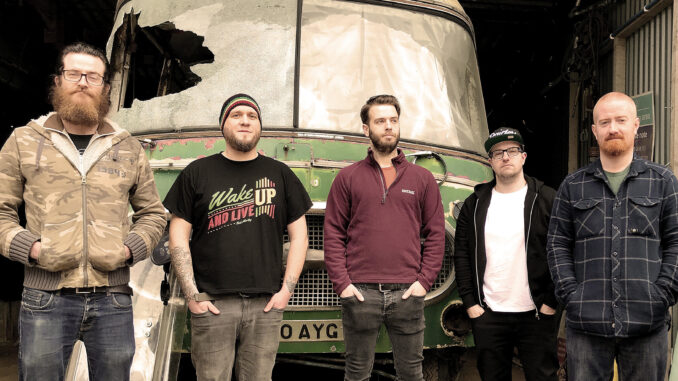 Boss Keloid Announce UK Headline Tour.
British prog psych giants BOSS KELOID have announced their headline UK tour in June 2021 with nuclear sludge duo TUSKAR.
Commented guitarist Paul Swarbrick:
"We are excited and proud to play live our brand new material across the UK to promote our forthcoming album. We are also delighted to have the mighty TUSKAR join us for the whole tour."
Tour Dates:
Fri 18th June - GLASGOW Ivory Blacks
Sat 19th June - MANCHESTER The Breadshed
Sun 20th June - STOKE The Underground
Mon 21st June - NOTTINGHAM The Chameleon
Tue 22nd June - BIRMINGHAM Dead Wax
Wed 23rd June - SHEFFIELD Mulberry Bar & Venue
Thur 24th June - LONDON Boston Music Rooms
Fri 25th June - CARDIFF Clwb Ifor Bach
Sat 26th June - BRISTOL Rough Trade
Sun 27th June - BOURNEMOUTH The Anvil
BOSS KELOID formed in 2010, Wigan, UK. Their latest and fourth album Melted On The Inch was released on Holy Roar Records to worldwide critical acclaim. It has been described as a "huge, complex behemoth with a surprising uplifting feel" by Terrorizer Magazine, an "enthralling exercise in uber-heavy psych" by Metal Hammer Magazine, a "masterclass in heavy, progressive metal" by Louder Than War, and a "lusciously produced, immaculately crafted piece of music" by Pure Grain Audio. James Scarlett (ArcTanGent's organiser) cited Melted On The Inch as his No.2 album of 2018 and described it as "a wonderful melding of 70s prog and modern doom".
Two-piece TUSKAR have been building their reputation as the band to watch in UK heavy music's underground scene since the release of their debut EP, Arianrhod, in 2017. The "Nuclear Sludge" label started as a joke between Tyler Hodges (Drums, Vocals) and Tom Dimmock (Guitar), but nothing else has come close to describing the sound made by the duo as they draw from influences as diverse as early Mastodon, Sleep and Conan. Their 2018 EP The Tide Beneath The Wall has had more than 370k streams on Spotify, and they followed it up with the three track live EP The Monolith Sessions in 2019, recorded with Steve Sears Jr. (Gallows). One of the most exciting live bands in UK metal right now, their debut album is due out on Riff Rock Records in 2021.