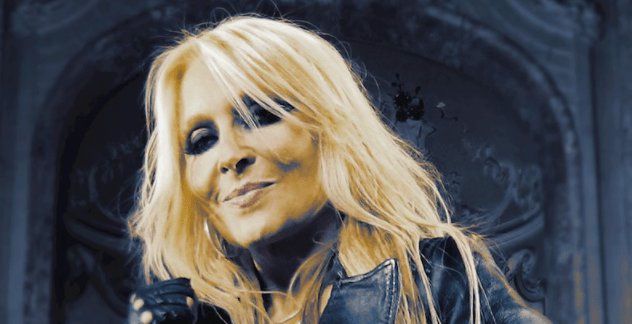 Album Review: Doro - Magic Diamonds - Best of Rock, Ballads & Rare Treasures
Reviewed by Paul Hutchings
Wow! This is some package. Well, it will be if you buy this massive piece of work from the Metal Queen, Doro Pesch. Possibly the most loved woman in metal, Doro's career spans over 35 years and there can't be anyone more dedicated to her career in music. My first encounter came at the 1986 Monsters of Rock, when Doro and Warlock opened the day off with a feisty set that proved she could cut it with the best. More recently, she's headlined the Sophie Tent at Bloodstock and is a regular at some of the huge European festivals like Wacken and Hellfest.
This package is something else mind. A 56-song collection with almost four hours covering four decades of her music, with a fantastic mix included. There are tracks with classical orchestral arrangements, some interesting and entertaining covers and a few off the wall tracks, as well as a few collaborations and of course a substantial number of the aggressive metal songs that she is best known for.
Highlights? There are many. Disc one opens with a raucous 'All We Are', a typical feisty rocker. Her duet with Pete Steele on 'Descent' from 2002's 'Fight' is magnificent, the former Type O Negative singer adding his mournful vocals in classic style. 'Night of the Warlock' always gets the fist in the air whilst a bit of native tongue is welcome on 'Ich Will Alles' from the 2000 album of the same name. There's also a fabulous over the top version of Judas Priest's 'Breaking the Law', converted to an semi-acoustic orchestral song that sees countryman Udo Dirkschneider join forces with her.
Disc two includes some of Doro's ballads and slower tracks. 01 'Für Immer' from Warlock's 'Triumph and Agony' is a demonstration in how to deliver the ballad properly. A real hair on the neck, the song that translates to 'Forever', mixes both German and English. This version has a classical orchestration, with the drumming exception. A new version of 'Love Me In Black' is also well worth a listen. And then there is a duet with Doro's favourite friend, Lemmy, which can't help but bring a tear to the eye as the Motörhead legend not only sings on 'Love Me Forever' but adds his thundering Rickenbacker bass to the track.
Disc three pushes back towards some of the heavier side, with a storming live version of the Warlock classic 'Hellbound', a quality cover of Dio's 'Egypt (The Chains Are On)' and a feisty live version of 'Bad Blood' with Blaze Bayley. Backed by some superb musicians, the quality of the tracks is first class, and you can't help but smile, nod your head and tap your foot. If you've ever seen Doro live, you'll know that she always gives 100% and that is true in the selection of these songs.
If you decide to part with your cash, there are a range of options available for you. The vinyl junkie gets the option of the official 4LP version, on coloured vinyl. "The big vinyl box contains two double LPs," she reveals, "and, as an encore, the Rare Treasures bonus CD and a poster." The three CDs will be released in a high-quality box containing a valuable, exclusive Doro perfume called 'True At Heart' as well as a Magic Diamonds tube scarf! "I have been dreaming of my own perfume for many years," says Doro. "Now the time has finally come." The fragrance is available in two versions: 'For Him' and 'For Her'.
With Christmas coming up fast, what better present could you get for the metal head in your life! A carefully crafted and curated compilation which captures the best of one of metal's true survivors. Now, just to speak very nicely to Mrs H.