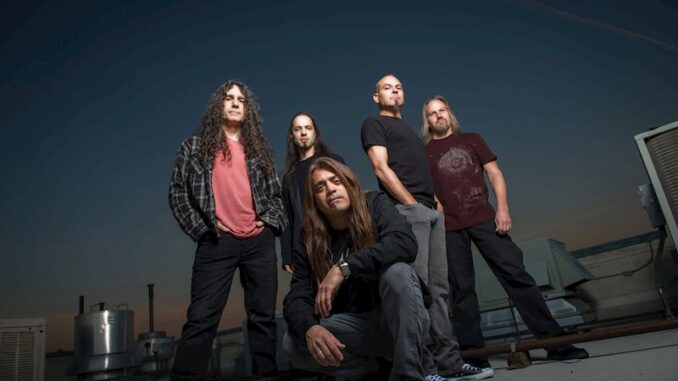 Album Review: Fates Warning - Long Day Good Night
Reviewed by Paul Hutchings
It comes to something when you've been around for 35 years and your latest album is described as "the most epic and longest of their storied career", but that's exactly what we find with the latest album from progressive metal giants Fates Warning. Their 13th album consists 13 songs and a running time of 72 minutes.
Unsurprisingly for a band of such repute, there is little to disappoint. The music is tight, the production polished and the performance of each individual impressive. With the band a settled unit since 2007 when drummer Bobby Jarzombek joined the band, there is a real feel of solidity across the songs.
Opening with the bombastic duo of 'The Destination Onward' and 'Shuttered World', 'Long Day Good Night' motors along at pace until slowing on 'The Way Home'. Part ballad, part progressive work out, this is a more challenging track, the first part a gentle caress with vocalist Ray Alder taking centre stage before a jagged, angular segment leads into a crashing riff as the song moves forward in a more straightforward manner.
In fact, it's the changes in styles of music that may distinguish 'Long Day Good Night' from many of the band's previous records. 'Under the Sun' is a lovely semi-acoustic track, allowing Alder to shine, accompanied by a mellow beat, some calming synths and the odd, delicious piece of guitar work, as would be expected by founder member Jim Matheos. The use of strings only adds to the piece.
Adler describes the record as varied in style.
"There are some songs with electronics and some with a nice ethereal feel, as well as some pretty straightforward grooves, at least for us. And there are also some pretty heavy songs. We tried to give the listener a host of different things to listen to, as opposed to an album where every song sounds the same."
Listening to 'Long Day Good Night' there is ample variety to enjoy. 'Begin Again' is a melodic mid-paced track, 'When the Snow Falls' one of the more ethereal songs, underpinned by a pulsing beat, before Matheos stokes the heat again with more pace. It's classy stuff, the interplay between the band members smooth and confident. Joey Vera's solid bass lines link with Jarzombek's drumming, Adler's vocals are clean and powerful whilst Matheos is an exceptional guitarist, avoiding the flashy but showing enough passion and sparks you'd expect from someone of his calibre.
And we also have the showpiece of penultimate song 'The Longest Shadow of the Day'. At over 11 minutes, it's a sprawling, almost jam style work out which meanders for the first couple of minutes, Vera's bass sparring with some Matheos's mesmerising guitar work before evolving into a muscular section of interplay, reminding you that whilst the band wear the progressive label, they still have some mighty fine chops. It's six minutes before Alder adds the first line of lyrics as the tempo drops several notches.
Having spent over a year crafting the album after their tour with Queensryche, Matheos acted as producer, the band tracking their parts in their various homes/studios in Los Angeles, San Antonio, Texas and New Hampshire while Alder, who lives in Spain, recorded in a small studio in Madrid. What he describes is dedication to the cause. "
Spain was on total lockdown due to the Coronavirus pandemic. This meant that no one could leave their homes for any reason other than to get groceries or walk the dog. Due to ours and mixer Joe Barresi's timeframe, I had to record in May, or the album would have been delayed for a very, very long time. So, I basically snuck to the studio in a moving van under the pretence that I was moving - which was allowed - and slept in the vocal booth for two weeks. It was pretty nerve racking since there were checkpoints set up on the highways to stop anyone that was going about without a good reason. If you were caught, you would be fined around 600 euros and maybe jailed. I also had a timeline that I had to finish by so the days were long. There wasn't time to mess around and think, 'Oh, I can do that later'. As soon as I finished a song, it was being mixed. This was the first time this has ever happened, but it all went well, and I was able to finish on time."
With guest appearances from touring guitarist Mike Abdow, who contributes some fine solos and the drumming excellence of Porcupine Tree/The Pineapple Thief drummer Gavin Harrison on 'When Snow Falls' and 'Under The Sun', it's hard not to be entranced by an album of this quality.