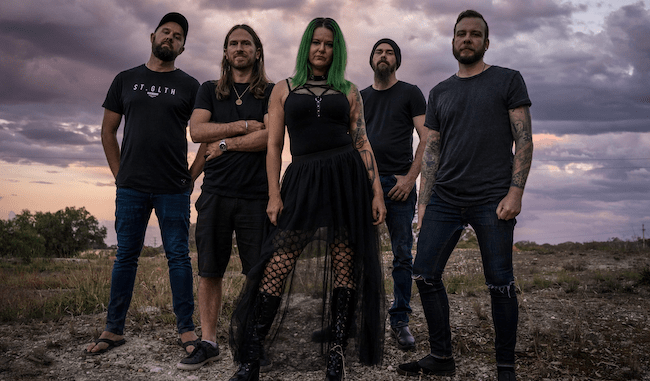 Album Review: Spacegoat - Catharsis
Reviewed by Neil Bolton
'Purge', the first track from the album 'Catharsis' begins with a very accomplished bass line; fast and complicated. It is not long before Erin Eddy, the singer for Spacegoat, shows her quality. For a short while she is calm, almost whispering; this does not last. She begins to scream and growl the lyrics like an angry demon. She accomplishes this very professionally and aggressively. It is not long before the beauty of her voice is shown further in the song providing a very interesting and professional vocalisation. This Australian alternative metal band have several aces up their sleeve, not only the vocal talents of their singer, but the band all seem to be no stranger to the practice room, they are tight and precise.
The next track 'Miasma' tackles the difficult mission of Erin's struggles with anxiety and imposter syndrome. The powerful music does not let up here, but we do hear Erin bare her soul with clean strong vocals once more, leaving the demonic scream behind. The tune blasts and bounces along leaving the vocalist to shine with a decent amount of confidence. There is a nu metal menace in the music which when used wrongly can be tired and old. When used appropriately the experience is enjoyable. Erin explains "this is the shit that keeps me up at night" in a well written, sing along chorus that will go down well in any live setting. Kudos must be given to any artist who bears their soul in this way for the world to analyse and dissect.
An accomplished 'Kid Eddy' on bass starts 'Erased' with Erin's clean vocals once more gracing this tune. There is less menace in this track, but the bounce and feel of the tune still appeal. 'Dirty Fighter' immediately has the head bobbing. Containing a rousing conclusion airing the riff skills of the band. Throughout the rest of the album Erins voice remains clean and robust while the music bounces fluidly. The song writing is impressive showing promise for this band.
All in all this is a powerful collection of tunes that display lyrical honesty, with well crafted genre-melting songs ready for a live outing.