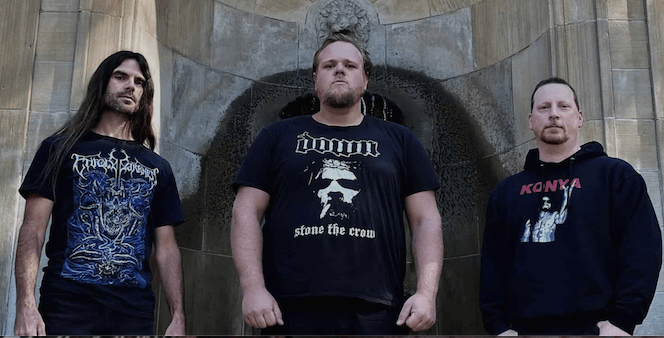 Album Review: Mutual Hostility – Sacred Propaganda
Reviewed by Carl Black
I'll get stuck right into this review, much like all the tracks. There is no messing around here. No easing us in with a mellow intro, OH NO. Bang, straight in, every single track of this five song E.P. starts immediately, if not sooner and goes at it like a rabbit smelling the daffodils in early April. Mutual Hostility have adopted the grind guitar sounds that shreds through your head and strangles the senses. The drums and bass are tight, and unlike many of their contemporaries, share the same time as the rest of the song. So often now the guitar riff is four times slower than the drumming, but these Ohio based death metalers keep the tempo synchronised. The vocals are a low growl that are somewhat comprehensible and are influenced by the fore fathers of the genre.
All the songs have definition and cohesion and you can plough through these five songs until the end without wanting to skip stop or lose concentration, which is very positive. A true test of an album, can I say that I would have the same level of engagement with ten songs? I'm not so sure. This is a very good, brutal start to their career, but they have a few missing pieces. They need to complete the line-up, only a three piece at the moment, Adam Rogers – vocals and lyrics, Dan Gates – guitars & bass and Eric Frabotte – drums. They will need at least a couple more members. They need some miles on the clock and shows under their belt. Only the clever scientists developing vaccines can help them here. And I believe they need some killer songs. The one they are waiting for is not on Sacred Propaganda. There is no "Pull the Plug" No "Suffer the Children" no "Left hand Path"… Yet. But it will come!