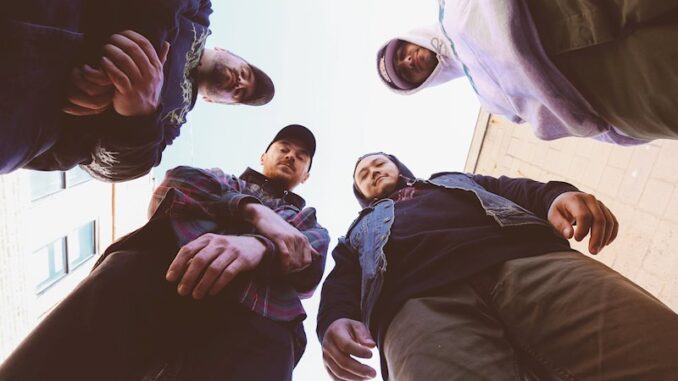 Album Review: Sanguisugabogg – Homicidal Ecstasy
Reviewed by Dan Phipps
One of the hottest commodities in death metal over the last few years has been the Ohio band Sanguisuabogg. The bands Pornographic Seizures demo which was an extremely sought after release and has received multiple re-pressing runs since dropping in 2019 was followed up last year by the bands Century Media debut Tortured Whole. Now the band have quickly produced their follow up record Homicidal Ecstacy.
Off the top the release has an absolutely devastating sound, the guitars sound absolutely massive, sounding somewhere between Mortician and Incantation in terms of grit and sheer heaviness. The vocals of frontman Devin Swank also sound absolutely superb as his low vocal style adds to the absolutely crushing sound of Homicidal Ecstacy. The drums are powerful and have a true honest sound without the need of being overly produced. Sanguisuabogg have produced one of the most honest and crushing sounding death metal records you will hear this year and it certainly gets off to a good enough start, opening with some serious groove and sheer heaviness mixing in a few goregrind sounding sections during the albums opening track "Black Metal Vasectomy" unfortunately Homicidal Ecstasy quickly goes very dull from that point.
The quality of the product as it progresses turns extremely monotonous, I understand the want and need to showcase just how ungodly heavy Sanguisuabogg are as a band but I need more, and I felt that a bunch of mid tempo riffs with the occasional blast section thrown in, along with the very similar opening of the first few tracks in the records run length really does this album a disservice in my opinion. Now it's not all negative, Homicidal Ecstasy at times does get the juices going and gives me some hope that there is something there and when the tempo picks up such as around 1:20 into "Narcissistic Incisions" I instantly feel more engaged with the record. I feel the songwriting during the second half of the album has a bit more to it and this causes the record to begin to grow on me more as it progresses through as we hear the tempo go back up and the groove having a more serious feel to it but there are still points where it just fails to maintain real momentum.
Sanguisuabogg shows how death metal albums should sound as a final product. It's a huge sounding release and if you are a fan of the band's earlier work then this certainly should continue your enjoyment of the band. For me I'm still not sold, when this record is on its crushing and a really solid display of death metal but I also hear a lot that does not give me the level of excitement I get from other death metal acts.