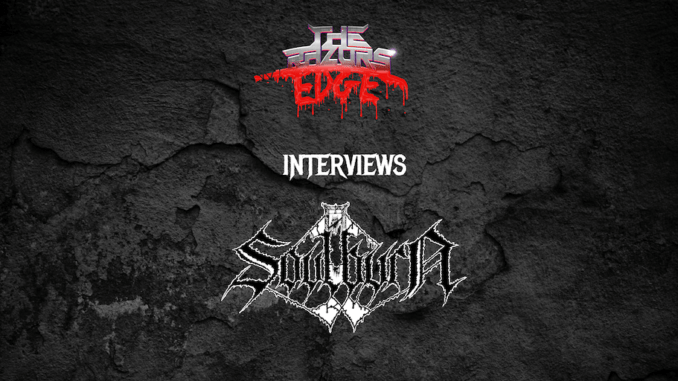 Interview: Eric and Twan from Soulburn.
Interviewed by Tim Finch

Dutch doom flavoured black metal outfit Soulburn are about to release the forth album of their career. 'Noa's D'ark' takes cues from Nietzsche works and focuses on themes of sex, religion, magic, love, and death.
With those daunting topics in mind, we sit down for a chat with Eric and Twan to chat about the new release and delve into a lot more.
The Razor's Edge: Welcome to The Razor's Edge
Twan: Thanks for having us!
Eric: Yeah, thank you, it's good to be here.
The Razor's Edge: So let's get this question out of the way right at the start… the world seems to be falling apart in 2020. How has the apocalypse been for you?
Twan: Very nice, I love it! The depression, the rain, the grey skies, the virus, people dying.
Eric: [laughs]
Twan: It's a big mess you know, it's very sad for a lot of people and the crowd are so divided by what to do. I like to see the failure of democracy once in a while. Who's going to be right at the end? The only right thing is we are all too late, the world is over populated and of course mother nature takes her revenge right now. If you really want to make a difference for the future, then we should just... well nobody should have children anymore, or maybe one. It's almost impossible to find a real solution that can work. Mankind is a virus, we have overgrown, we are greedy, materialistic, we want to buy and consume. The world is fucking sick of us, this is her way to show it.
Eric: It's like feeling trapped you know, feeling like you are in prison. Luckily I have the opportunity that I can go into the office twice a week to see some colleagues. I also think people are acting strange, in supermarkets and everywhere you go. They are more stressed than normal and I understand that. It's a little bit of a nervous society and I really hope they find a cure so we can go back to normal. On the other-hand I think it's going to be a while that we are stuck like this. Luckily as musicians we can play our instruments and thats nice to do.
Twan: Like you say as musicians you can be creative, empty your head and keep yourself sane.
Eric: Basically thats it, the most fucked up thing is we can't play shows, we can't play live, we can't go out. Before we'd go away on Fridays and come back on Sundays and go out of our normal bubbles and spread our music. It's really hurting that we can't do that, but we are not alone, there are a lot of bands who can't do this. You have to be creative and find your own way. Like Twan said don't become insane, but on the other hand we are insane enough in our heads otherwise we wouldn't have made the album we did.
The Razor's Edge: You can't go out and tour right now, but have you had to cancel may shows as a result of the pandemic?
Eric: We had some shows planned but they are all cancelled. We don't know what's happening, maybe we can do a socially distanced show, playing a venue thats really organised. Maybe play a show for a hundred people and they keep their distance, we sure want to do that.
The Razor's Edge: Ok, so let's move away from the end of the world. Your new album, Noa's D'ark comes out next week, your first album in four years. How long ago did you start writing the album?
Eric: Actually it was late 2018 I think. I started writing some riffs, some ideas and put them together. It was the time spent in 2019 to make all these songs solid and the nicest thing is the song one through ten on the album are actually written in that order. We never switched and wrote a song that could slot in at seven maybe. It was like first song one, then two, three in that order. When you listen to song one and then ten, in between there is a whole year of writing.
The Razor's Edge: Did you do that intentionally, writing them in order?
Eric: Thats a good question, the whole album I didn't think about it. The riffing, the ideas I put them together and this came out. There wasn't really an idea where we have to compose like this or like that. It was just picking up the guitar, oh I have good riffs, I record them. It was very spontaneous.
The Razor's Edge: The two of you really are the nexus of the band, are you the main song writers too?
Eric: I just recorded at home, just two channels, I'm not a studio wizard. I just have my computer and I can record my guitar. I send them to the guys in whatsapp. I say "I've made something do you like it?" and so on. And I got a really enthusiastic response back and I know Twan is really busy with the vocals. We really inspire each other. The songs start basic and go levels up, everyone puts their own specialty in the songs and eventually get what you hear now with the new album.
Twan: It works perfectly for me. Eric sends the blue prints and ideas and it sounds killer, theres a fucking great riff or amazing melody and then he finishes a song, he makes the structure from the riff, then a bridge to that thing and so on. And when the song is finished he sends the blueprint and the click and I get ideas for the way I want to do my lyrics and vocal lines. Always in the back of mind I am thinking about lyrics and ideas for song titles that will work for the album. When that is done it goes to Remco and Mark and they arrange the drum arrangements and then you get a build up that develops the beast of the song. When I hear that I really start writing my lyrics, I listen to the rhythm of the drums and I can twist it around with my vocals. If the drums go like this then I do my vocals like this for the upmost cool result.
The Razor's Edge: You talk about your lyrics, on this album you delve into subjects such as sex, religion, magic, love, and death. Where does the inspiration for all of that come from?
Twan: It's death in the end. And the life towards it. And also these times as well, theres a lot going on in the lyrics. I started to think about the album title Noa's D'Ark, which is drawn from the bible, Noah's Arc which was to save mankind and when you look at these times right now, we are living in biblical times. As long as there is religion to keep mankind dumb and ignorant for the capitalistic view to rule. There's a very evil presence here on earth which keeps it all going that way. The population is making children like it's nothing and we are just over populating. Like I said in the intro thats really something going on in the lyrics as well, and to find a light in that I talk about spiritual energy like a modern satanism. I put in the lyrics as well to put yourself above divinity, above god and to become your fullest self, the upmost, best version of yourself. Which maybe even be a positive message.
A lot of it is inspired by Nietzsche, I like the way he works with words and he takes things from religion and politics and combines it in todays society.
The Razor's Edge: You started writing two years ago, did you manage to get it recorded before this pandemic hit or were you recording in lockdown?
Eric: That is interesting, we were finished with the songs and we said to Century Media that we'd like to record the album and they said yeah go ahead. But it was tricky, are studios open? Are we allowed to record in studios? In the end the studios were not completely locked down, we could have two, three people max. The whole album we recorded with our engineer. For Twan, he recorded his vocals in another studio with an engineer, his bass in the studio with an engineer, I did the guitar and drums in a studio with an engineer so we could be there with two or three people max. It was do-able but a little bit strange. Normally I go into the studio and see how it's going on. For the recording it was all individual, but when you hear the album it feels like we were all together.
We said we had to do it now not three or four or five months later. The mixing was done by JB Van der Wal and he did it somewhere in a cellar or something, he was just sitting there alone mixing the album. In all it was really an experience. But on the other hand the result was magic.
The Razor's Edge: Would you be tempted to do it this way again, or once this is over will you return to the way you always do it?
Eric: We have to think about it, for the people who were involved in this album it was really nice to do. I always say if you have something good never change it. But I really don't know what is happening. Studios can go away, people can retire, you always have to use the situation when you are recording. It was a really nice process to do it this way when we analyse the process.
The Razor's Edge:  Do you pay much attention to the reviews in the press when they come in?
Eric: For sure! What we see and what we like on social media we just grab it. We really like to follow it all. This Friday the official video comes out, the promo video, it's a really nice one I can assure you. For once we are really working for this album.
Twan: Because there are also no shows, it's social media that has to do the trick. You have to keep up to date with everything and follow it on the feeds. I am really excited about the upcoming reviews, of course everybody has the right to think about the album what he thinks, thats the beauty of taste right? We can say for ourselves we made this album 100% in an honest way and this is the way Soulburn sounds these days. All the lyrics, every word, every riff, every melody from Eric it's 100% from the heart and that translate through the album. It's not just a fun album, it's got some depth and some serious shit in there.
The Razor's Edge: Are you planning anything to mark the launch of the album? I guess usually you'd be hitting the road, but that's a bit restricted right now.
Twan: We might do a streaming show or something, we have to figure it out, we have to be innovative. There is the video coming out on Friday. But when the album is out there is no album release show and who knows for how long. So we have to think of something cool to come up with to surprise the fans in a nice way. To keep it going and the black flame burning.
The Razor's Edge: Have you done any live streaming shows over the pandemic?
Eric: No we never did. It's really exciting to explore that part too. We just had in mind to play the album from the first to the last note, maybe in a rehearsal room or something and give it to our fans. We are thinking of the possibilities.
The Razor's Edge: For those of us, including myself, who have never witnessed a Soulburn live show and might not get the chance in the near future at least. How would you describe you live shows?
Eric: Full of energy, we all go for it. Like when you hear the album, all the passion and from the heart you see it live too. Every show is maximum energy that we give. A wall of sound you know.
Twan: A wall, a big wall of sound!
Eric: We don't like to play soft, that wall of our energy and stuff like that. That's how Soulburn is, a big middle finger to all. Think about it what you think. Just like metal is supposed to be, in an aggressive way, in a heavy way and give our fans what they expect from us.
Twan: It's alike a real metal show, dark atmosphere, wall of sound, lots of smoke and atmospheric lights. The way that fits the music!
The Razor's Edge: A wall of sound is good. So what's next for you as a band. Where do you go from here?
Twan: I think Wembley Stadium [laughs]
The Razor's Edge: Thats a good target.
Eric: Thats empty now, theres a lot of space there.
Twan: We just have to wait to see what the pandemic does.
The Razor's Edge: So you are not making plans?
Twan: We have a new booking agent, we signed a contract. What's it called Eric?
Eric: Continental Concerts, they are German, we signed two, three weeks ago a contract with them. They have bands like Benediction and a lot of great bands.
The Razor's Edge: That will land you some good live shows and tours then!
Twan: Yes and hopefully some good festivals next summer. If the vaccine comes in time, we'll drink beer and shout [laughs]
The Razor's Edge: So my final question for you. If you look back at your career and go back to the start, would you do anything differently?
Eric: That's a tough one. I think one or two things I guess. But when you change something, the other thing wont happen.
Twan: Butterfly effect!
Eric: So you need to be careful what you are changing because you change one thing you are not happening with but you can then fall down on the good stuff. I say never regret things, we live today, we live tomorrow, go on! You can experience what you've done wrong but you can't change it, just let it be! Hey, that's a Beatles song right?
Twan: It's better to regret things you have done than regret things you haven't done!
Eric: Thats what I was looking for, that says it all!