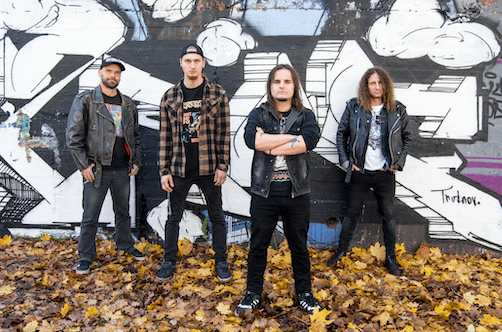 Album Review: Exorcizphobia - Digitotality
Reviewed by Carl Black
It's always nice to get two for one. You always feel that you've got something for nothing, a little extra that you wouldn't normally get. The Czech Republic's Exorcizphobia, who have been around since 2005, are the two for one, they are the four extra pints when you buy a four pack.
The album is split down the middle in regards to timing with 80's thrash and heavy, thrashy prog. The first five songs thrash along nicely. We get some interesting arrangements, solid riffs and many a solo. Tomáš Skořepa and Ondřej Šíma on guitar lay many a solo on top of Aleš Kostka and Tomáš Kejkrt's bass and drums foundation. The fast riff sandwich which is 'Corporate Dance' (stomping opening riff followed by a fast verse and chorus ending with the stomping riff) is a great slice of thrash. The title track shifts to the more punk side of thrash. It's unrelenting, ballsy and filled with attitude.
As distinctive as these songs are, its Tomáš Skořepa, who handles the vocals, that separates Exorcizphobia from the rest of the thrash horde. He has a slightly higher, almost soulful reach, that's surrounded by echo and reverb. It puts a slant on each song which is not dis-favourable. Plus, it's a hallmark of any good thrash band, a distinct vocal style, good or bad, all the successful thrash bands have one. The Czech's can put a tick in that box.
The second half of the album, which consists of three longer, more experimental songs. The pick of the bunch is easily 'Ancient Deception'. The vocals flip flop between spoken, almost mechanical tones over a slightly hap hazard, confusing riff. The song has no real chorus, but that does not matter one bit. It quickens in pace as the song continues and is an excellent addition to the album. 'Oumuamua' is a nine-minute instrumental that gives us a tug-of-war between chugging guitars and ringing open notes that concludes in a more melodic finish with a spacey, trippy mid song intermission.
The good news here is you don't have to pick a side. You can have both sides of this band on this album. Which one you enjoy the most is your only decision, unless you're like me, and enjoy both sides. It really is getting two for one!