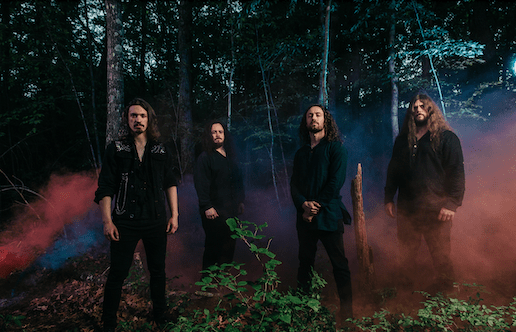 Album Review: Wilderun - Epigone
Reviewed by Richard Oliver
We are headfirst into 2022 and just mere days into the new year I hear an album that I can already foresee ending up high on people's album of the year rankings in 12 months time. It's a pretty bold statement less than a week into 2022 but once you have heard Epigone by Wilderun then you would be hard pressed to disagree. This is the fourth album from the Boston based progressive metal band who came to mine and a lot of people's attention with their jaw dropping 2019 album Veil Of Imagination. It was an album that mixed the progressive, the symphonic, the folky and the extreme together in a gloriously epic, emotional and furious style.
Epigone stylistically is very similar to what Veil Of Imagination gave us but this is a far bigger, bolder and darker album. Like most progressive music this is an album that demands your attention with plenty of shifts in sound and tone throughout its nine hefty songs. It is an album full of slow build and scene setting so it also demands your patience but the payoff is always wholly worth it. The album starts in very low-key style with the gorgeous acoustic opener Exhaler which flows into the 14+ minute epic Woolgatherer which maintains the low-key momentum built up by its predecessor before it explodes in glorious fashion about a third of the way in. The album is full of these ebbs and flows pulling back when it needs to and unleashing its full arsenal at just the right moments. Songs such as the stunning Identifier are perfect examples of this approach with its mix of gorgeous melodies and stripped back symphonics giving way to moments of ferocious death metal and full blown orchestral glory. The four part Distraction suite which closes the album is easily the highlight and it throws everything in the Wilderun arsenal at the listener over the course of 20 minutes.
The musicianship throughout Epigone is at god tier level with incredible guitar work and utterly fantastic drumming. The vocals from Evan Andersson Berry sway more towards a clean style on the album and they are utterly gorgeous though the moments where his ferocious death growls emerge are all the more effective for it. The compositions themselves are simply stunning with some absolutely incredible symphonic scoring throughout the album.
From the strength of previous album Veil Of Imagination, Epigone was already a hugely anticipated album for me and it's fair to say it meets expectations and then some. Wilderun have really outdone themselves here and the fact that this album was written with the band members all displaced due to coronavirus speaks of the immense musical bond that Wilderun have in that they can compose an album of this magnitude without being able to be in the same room as each other. If you like progressive metal sounds and are a fan of bands such as Opeth, Enslaved, Devin Townsend, Wintersun and Ne Obliviscaris then really do not hesitate to give this album. It is utterly spectacular!