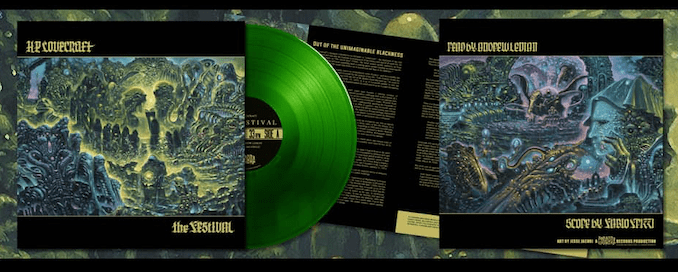 Album Review: H.P. Lovecraft - The Festival
Reviewed by Carl Black
By now, you've heard 'Last Christmas' by Wham, 'Do they know its Christmas time' by Band Aid, you've watched The Great Escape, the Wizard of Oz, whatever Bond film that the TV bosses seem appropriate and you've heard Noddy Holder Scream "ITS CHRISTMASSSS!!" for the umpteenth time!
Time for something a little different.
The good people at Cadabra Records are releasing an audio reading of H.P. Lovecraft's The Festival, narrated by Andrew Leman (H. P. LOVECRAFT Historical Society), with a dark and haunting musical score penned by Fabio Frizzi. In addition to this, it's being released on the 18th of December, (that's a stocking filler sorted) on 150-gram vinyl with a host of artwork and extras.
The plot is centred around a young man, summoned back to the town of his forefathers who celebrate the Yuletide by descending into a sub terrain chamber under the town's church. He enters this underground cavern by accompanying an old couple who are mute and communicate with their guest via a medium of stylus and wax. Within this subdued setting, our main protagonist leafs through the dreaded Necronomicon, (I'll eat my hat if this dusty ol Thome has not been mentioned by at least one black metal band) a book that has a "Monstrous" reputation and apparently descends our hero into madness.
I could spoil the ending, what happens in the secretive cove, it really wouldn't matter. The story telling is all in the detail. The main plot could be written in minutes, the descriptions and eerie atmosphere is worth the admission. You feel a little colder, you start looking over your shoulder, and your mind's eye paints a thorough picture to accompany the spoken words.
What could go wrong, turn the telly off, shut the internet down, blow the dust off your record player and scare your kids, in-laws and the hangers on that find themselves around your Christmas table shitless.