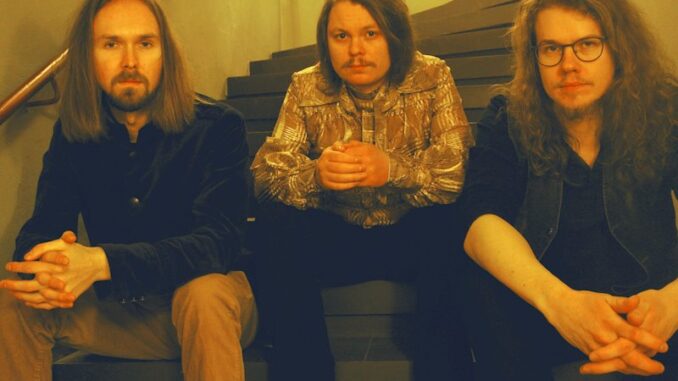 Single Review: King of Sweden - Dreaming About The Emerald
Reviewed by Paul Hutchings
King of Sweden are a Finnish three piece playing a 70s style of progressive rock. The band was founded in 2019 and comprises guitarist and singer Sampsa Nelimarkka, drummer Janne Savela and bass player Erkka Heinilä. Having released their debut album in December 2019 the band recently signed to Crusader Records. 'Dreaming About the Emerald' is their new single and the first release from the new album 'The Training' which is due for release in 2021.
The first thing you notice is the energy that is contained in the track. Painting a soundscape which transports you away, the band's vibe is based on bands like King Crimson, Gentle Giant and Yes but with a modern nod to the likes of The Pineapple Their and Porcupine Tree. It's a cohesive instrumental, flowing effortlessly with each of the musicians able to show their skills without eclipsing their fellow band members. Nelimarkka's tingling guitar work shines throughout, whilst the interplay between Savela and Heinilä is creative and fluid. With a driving groove that gets the foot tapping from start to finish, 'Dreaming About the Emerald' certainly is a very tasty appetiser for things to come.