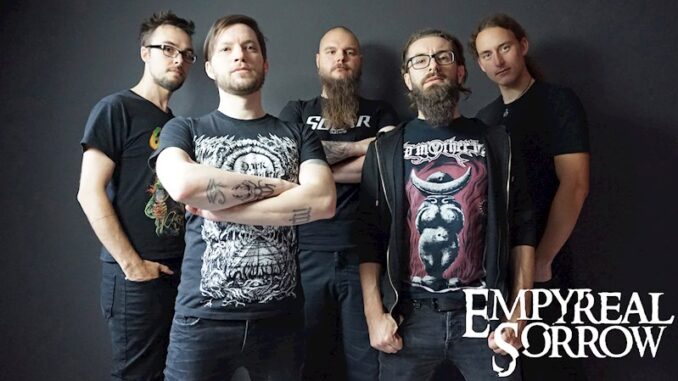 Album Review: Empyreal Sorrow - PRÆY
Reviewed by Paul Hutchings
Empyreal Sorrow extend an invitation to join the Cult of Sorrow through their debut release 'Præy'. The German Melodic Death Metal outfit explain: "It's so easy to feel caged in a bug-like life. To choke on the daily overdose of the faeces from the over present (social) media. When you are constantly fed with anger, hate, and delusion. The band is taking this obvious misconception of our existence and creating their own oppositional counterpart with the idea of the Cult Of Sorrow.
One merely must glance at the artwork for 'Præy' with its perverted adaptation of Da Vinci's Vitruvian Man to get the message – destruction of the ideal of the perfect human being. With each song on the album exploring themes of devastation, from personal depression or drugs through to senseless war or belief in god-like figures of no worth, this is an album that requires the right balance to get the message across. It starts well, the intro of 'Præy to Sorrow' segueing into 'Thrown Into The Fire', a bustling, aggressive and nasty opener, full of crushing riffage and the vocal interplay of Martin Szeike's deep, guttural grunts and Sebastian Moser's shrill black metal screams. The opening couple of tracks blend some of the classic Melodic death of Dark Tranquility, At the Gates and Edge of Sanity with some deathly creeping black metal and it's all good.
Empyreal Sorrow state proudly that they have no rules in how they make their music. 'The Error Code' is something of a bump in the road. Brutal drumming, explosive riffing, and a ferocious drive work, but some nasty metalcore style choruses appear, massively out of place with the overall style of the song. The pummelling 'Come Down With Me' which is at times amongst the heaviest music I've heard all year provides reassurance. Elsewhere, Empyreal Sorrow focus on their skull crushing mix to good effect. 'Quiet Depression' and the visceral, almost deathcore style of 'Scars of Old' rely on sheer intensity to ram home the heaviness with great effect, the latter a punishing and memorable piece.
Having formed in 2019 and recorded through 2020, Empyreal Sorrow is clearly playing the long game here. Mainly written by guitarist Martin Hofbauer, each band member has placed their own stamp on the album. Moser adds the thunderous bass as well as those howling backing vocals, Markus Winter duels with Hofbauer whilst drummer Julian Osterried brings the hammer. I'm not a fan of the occasional chanting choruses, such as on' Killing Silence' which is one of the weaker tracks on the album, albeit one of the heaviest but overall there is so much power contained within this record that it's difficult not to be drawn in by the sheer force.
Whether I want to join the cult is another matter but, on this showing, more than a few will be queuing up.