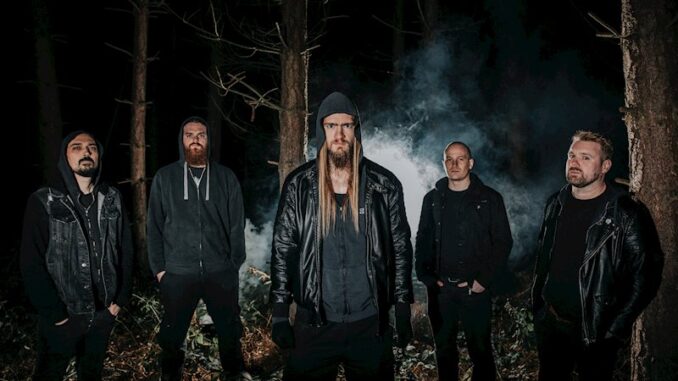 E.P. Review: Antre – Dark Spectrum
Reviewed by Robbie Maguire
Fear, Wrath, Salvation and Sanity have quite possibly been felt at some point either on their own or collectively by individuals in these passing months. These emotions will continue to be experienced as people react to and process the ongoing personal situation they find themselves faced with. Quite how these emotions manifest themselves would be far ranging for each person. The soundtrack with which Nottingham Black Metal outfit Antre have produced in 'Dark Spectrum' is certainly a fitting companion to these days where the very notion of these stark emotions is a forever, constant and evolving battle for many.
As the foreboding intro of 'Through These Dead Eyes' lures you uneasily into this dark journey you are instantly thrust you into a spiralling descent where a grim world beckons. The opener commandingly takes its thunderously heavy grip on you and retains its vice like grip as swathes of huge, dramatic, crushing riffs repeatedly punish you. It is a welcome grip though and one where strangely you won't want to be relinquished from. Despite the venom and ferocity emanating from the tenacious blackened metal the darkness created makes for a beautifully alluring song, with soaring leads heightening the deceptively euphoric feel. Harsh vocals are clear enough to convey the theme, in this case, the emotion of 'Fear', yet boisterous and gritty enough to add real depth to this dramatic opener.
The energy created and atmosphere is retained as 'Become the Damned' takes over in unleashing the aural punishment. Thundering along with such power, confidence and cohesion never does the sheer extremity mean the song loses sight of the atmosphere created as this time it is 'Wrath' which is explored. A mere moment for reflection is apparent then the black metal fury is unleashed again with such sonic brevity its testament to Antres' craft that they can maintain the groove created and engaging listenable nature of the music. The variety within the lengthy songs are a highlight, time changes, always seamless yet wonderfully fluid, add to the energy and intriguing feel. 'Mask of The Saviour' has death metal blood pulsing through its veins, whilst alternative crawling post metal sentiments are woven into its very fabric. With 'Salvation' forming the subject at its epic heart, wonderful drum fills cascade in the background and the frenetic pace and dominant aggression is matched by the sheer weight of the doomy, deathlike rampaging assault.
There is a very distinct groove to the E.P., an underlying but integral feeling that runs through the core of these four blistering tracks. A collective unity is obviously apparent, yet it seems there to be a striking, embracing of the musician's individual parts. Sure its got all the trademarks you'd expect and want from your black metal yet it seems to transcend merely that. When it thrashes, 'Dark Spectrum' punishes and pulverises with its relentless savagery in a way you'd hope for from visceral, dynamic and alive heavy music. Even the artwork distances itself, intentionally or not, from a 'typical' black metal release. A contemporary facial image in copper and bronze similar in colour to the very readable band logo makes for unassuming yet striking cover.
The monstrously engaging sound if visible would indeed be a sight to behold. As it is though the songs hold such gravitas be it as a result of colossal nature and feel of the songs or simply the intense vibrancy with which they present and convey themselves. The sinister strains of the emotive black metal combined with death, thrash, doom, hardcore and a smattering of sludge capture a unique and often attempted, rarely bettered, all encompassing creative sound. Hulking, jarring chords duel with eastern flourishes in closer 'Cursed Existence' as the notion of 'Sanity' is explored. It is a fitting and poignant arrival at the end of this most fulfilling journey.
Rarely does a band maintain such energy and keep the attention focused, certainly not with these consistent levels of unyielding tenacity and to such devastating effect. In 'Dark Spectrum' Antre appear to have produced an E.P. that fully pulls in influences from many corners of the extreme music world. What could result in a confusing mixture of intended creativity has on the contrary become an intensely engaging and adventurous record that makes for an enthralling and sonically immersive experience. It's rare that a band blaze a trail and stand out from the densely chaotic world of black metal. Yet over the course of its 28 minutes with 'Dark Spectrum' Antre really find themselves in a select group where they are not only refining all that has gone before them but forging and confidently blazing that new trail within extreme music.