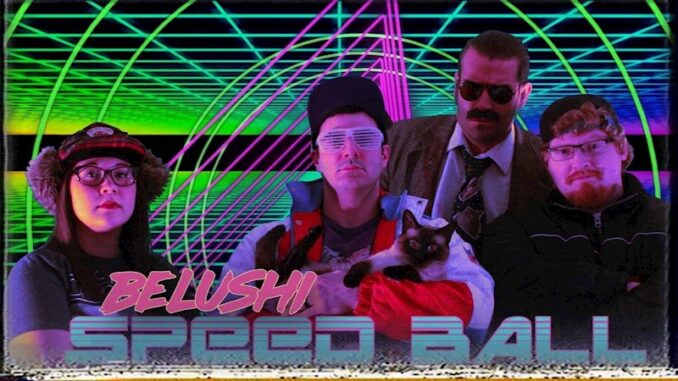 E.P. Review: Belushi Speed Ball – Stella 1 and Stella 2 (Double E.P.)
Reviewed by Paul Hutchings
With a name like Belushi Speed Ball you knew that this band were unlikely to be banging through 20-minute progressive opus after opus. Absolutely not. This is aggressive crossover thrash with a huge serving of humour, chaos and the downright bizarre. Every track is absolute lunacy, and although this double E.P. is only 23 minutes long, the short sharp eight delivery of the eight tracks hints at good stuff buried deep.
By all accounts, the band's shows are notorious for their thrashing and trashing. Having been plying their anarchic brand of metal since 2013 things start in an incredibly positive way with the explosive speed of 'Captain Planet Can't Stop Us'. The heat turns up on 'We're Not Thrashers We're Hipster Posers', a track written in response to an adverse YouTube comment about the band's appearance. If there was any doubt about the thrash credentials of the band, then this track will dispel them very quickly.
The Louisville quintet comprise Vinny - Guitar/Vocals, Senor Diablo – Vocals, Kyle – Guitar, Jazzy – Bass and Daniel Neel – Drums. To say that the band go off piste is probably an understatement. When you listen to this double E.P. and then read that "Watching a Belushi Speed Ball show is a lot like going to a pro wrestling event. There are costumes, outlandish characters and antics, raw energy, and the key ingredient: an involved audience" you can't envisage anything else.
Tracks here include the thrashtastic 'Dirty Dan and Pinhead Larry', 'Glass Bones and Paper Skin' which screams Hatebreed and the closing craziness of 'Wumbology', all played at rip-roaring velocity and with such energy you could probably power a small town from it. Interspersed with zany little sketches, and with the involvement of Chase Bensing and Toxic Holocaust's Joel Grind in the mastering and production zone, this is a release that will bring a smile at the start of 2021, even if you have little idea what is going on much of the time!