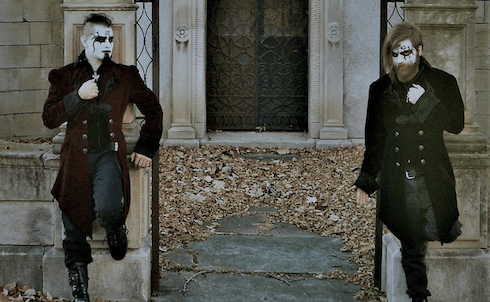 Album Review: Black Vatican - Arcana Lament
Reviewed by Paul Hutchings
This is a wild curved ball that I struggled with from start to finish. The second album from Kansas City's Black Vatican, and long-time fans of the underground, 'Arcane Lament' promised much in the blurb. Black Vatican's stated aim is to make "their own unique contribution to the gothic and metal music genres". From their formation in 2014 with nothing "but a microphone, a keyboard, and a heavy dose of imagination".
Their first release 'The Black Vatican' arrived in 2018. I'm not familiar with that release but initial impressions of 'Arcane Lament' are of an independently production which is over-ambitious, underpinned by an artistic vision and a deep well of sources including classic poetry, Shakespeare, and world mythology. Combining elements of symphonic, gothic, and black metal, the first shock is the vocal delivery which combines harrowing screams, scratchy goblin-like utterings, and deep, Type O Negative rich styles. Does it work? Hard to say.
Musically, the songs are relatively similar, and towards the end that becomes a drain on resources. Little sticks in the memory. 'Loss Greed & Necromancy' is a dramatic introduction, with a clip of thunder and dramatic organ giving way to a black metal tremolo riff wall, blast beats and thick keyboards which provide the background for most of the songs. The driving drumming keeps the track moving. You'll have to decide for yourself if the vocals work. Speed forward to the haunting 'The Witch of Scarborough Fair', a dark and sinister take on the Simon & Garfunkel song. It's here that the vocals really begin to both struggle and irritate.
More tremolo riffing signals the start of 'Dreams of Hecate', a combination of trashy drums, layered synths, which soon gives way to a bass line that pumps the direction for the rest of the song. It's not the most inspiring of songs, hampered by a relatively low scale production which causes some challenges on listens. Similarly, 'Vampiric Combat' is uninspiring and repetitive, blending in with the main body of the album without really providing much to get excited about.
The album closes with 'Reincarnation of Dreams', which includes choral and symphonic elements that lift it slightly higher than the previous songs. But that isn't saying an awful lot, as the track remains challenging yet flat. The mix doesn't help in anyway, and as I've said before, the vocals are a real struggle to get past.
There are likely to be those who enjoy this album and I wish the band well. It just isn't an album that grabbed my attention.