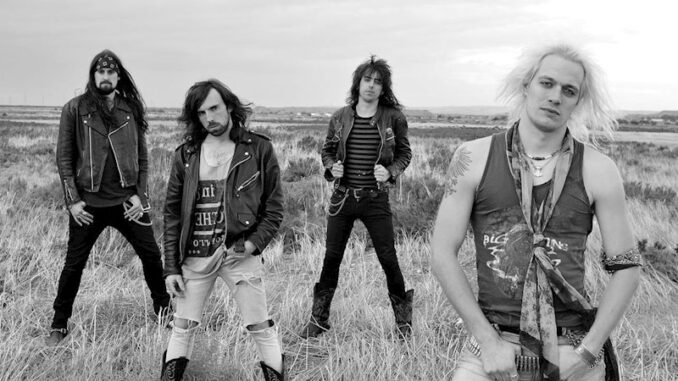 Album Review: Laced In Lust - First Bite
Reviewed by Neil Bolton
With several E.P.s under their bullet belts it about time Laced in Lust released a full length album.
Since their first show in April 2012 these Australian sleaze rock purveyors have recorded three E.P.s and toured Australia and Europe opening for bands of a similar genre, but also being brave enough to open for more metal bands. Indeed they supported the mighty Status Quo on a stadium tour of Switzerland, which is fitting as they have been described as a "Sleazy Status Quo" in the past. This is a fourteen track release containing sleazy, rocky, good time songs to get wasted to!
The first number 'Save Me' show cases the sleazy sound you were hopefully expecting. A competent voice carries this rock tune well with nice sounding dirty guitars bouncing along to a simple but effective goal of moving your hips and head. Music like this demands a guitar solo and thankfully we are not let down by the talents of Nick Robinson, mission accomplished, and we are on to the next song.
'Hot Tonight' begins with "whoa whoa whoa" and the Australian party feel returns to drink your beer and steal your partners. Good time feelings seep through this work, and I am sure this was the intent. No political agenda, no worship of devils or gods, just music to make you smile, shake your booty and nod your head.
Torsten Steel's voice is steeped in lace scarfs and high heeled boots and works perfectly with this sordid type of rock. The band are deft in their field and the song writing is true to the genre, and the solos are accomplished as I mentioned earlier, a must in bluesy rock. 'Sun Song' tops off a well crafted collection of songs; this is an ode to loneliness marinated in slide guitars, and hang overs.
As an album 'First Bite' is an excellent example of boozy inspired rock tunes, soaring guitars, and hip swaying tunes. Whether your bandana is adoring your head, tied around your arm or slung around your neck, Laced In Lust may just be the band for you.