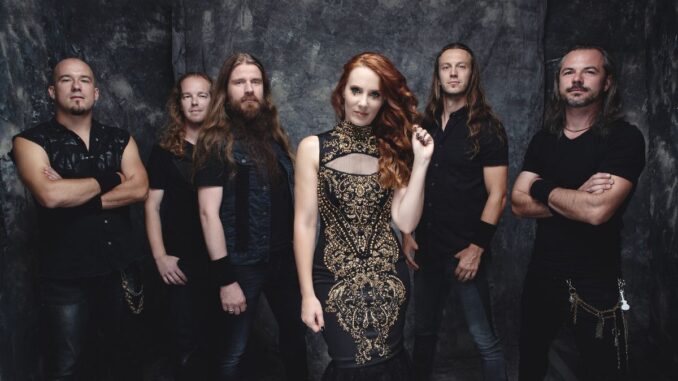 Album Review: Epica - Omega
Reviewed by Paul Hutchings
If flashy, grand, and magnificently showy symphonic metal isn't your thing, it's probably best not to read any further, for the eight full-length album from Dutch band Epica is all of that and so much more.
Their first all-new material in five years, 'Omega' is the conclusion of the metaphysical trilogy that began with 2014's 'The Quantum Enigma'. An epic cinemascope experience, this is a dramatic and stunningly impressive piece of work that is likely to be regarded as the band's finest work to date. Epica's success can be traced to their stable line-up, with guitarist Mark Jansen, vocalist Simone Simons and keyboard player Coen Janssen having been with the band since their inception in 2002, whilst the last addition to the current line-up was bass player Rob van der Loo almost a decade ago. The cohesion of the unit has been recharged after their 2018 world tour, with the band taking over a year out before regrouping prior to the pandemic to write and record 'Omega'.
Epica's decision to return as one team to a base where they were able to devote time to reacquainting themselves with each other has proved dividends. 'Omega' works on many levels; as the conclusion of a saga that started seven years ago, or as a stand-alone piece of work. Both options are equally impressive. The inclusion of a children's choir, and the huge, sweeping orchestral sections provided by the Prague Philharmonic Orchestra enhance this album to massive levels.
Whatever you think of symphonic metal, there is no doubting the talent and passion that is on display. In Simons, Epica possess one of the best vocalists in metal today. Her soaring operatic range is astonishing and works magnificently with both the fiery and the gentle music that has been weaved into a full 70 minutes. She works her magic to counterbalance the aggressive roars of Jansen and fellow guitarist Isaac Delahaye on tracks like 'Abyss of Time – Countdown to Singularity' and 'Synergize – Manic Manifest', both fantastically blended powerful riff driven tracks that are supported with the huge orchestration and choral backing. And she provides one of the albums many highlights on 'Rivers', a gentle orchestral piece which sees Simons shine, flexing the full range whilst accompanied by the children's choir. It's uplifting and emotional.
The centrepiece of 'Omega' is undoubtedly the monumental centre piece 'Kingdom of Heaven – The Antediluvian Universe'. At over 13 minutes in length, it's a masterful and epically constructed composition that switches tempo repeatedly as it explores its multiple layers. Oriental flavours are interspersed with blisteringly paced riffing and drumming, and its cinematic soundscape provides a dramatic and glorious impact that the band would have hoped for when those initial demos were first laid out. It's run close by the stirring closing track, 'Omega – Sovereign of the Sun Spheres', which provides a splendid and breath-taking conclusion to the album.
19 years since their ambitious debut, 2002's 'The Phantom Agony', Epica have released a blistering statement of intent for 2021. Beautifully crafted and constructed, the songs are intricate and complex, yet instantly accessible. The compositions retain Epica roots but display the confidence and continued organic progression that they continue to take with each album. It's a huge album and one that they should be rightly proud of. One can only hope that the band are afforded the opportunity to play these tracks live. It will be something truly memorable if they do.