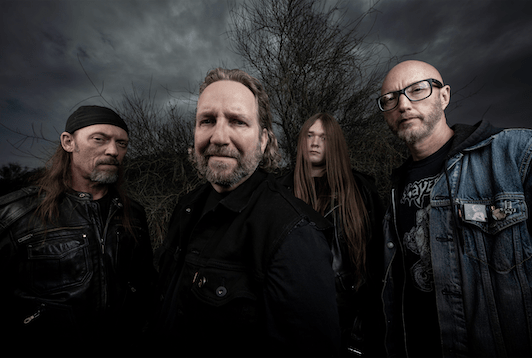 Album Review: Sacred Reich – Surf Nicaragua / Ignorance / The American Way
Reviewed by Carl Black
We have come to accept that every classic album we have revered from back in the day will get a re-issue, a re-stamp, a re-vamp, in one way or another in the coming years. The thought of having to shell out even more money for music that you've already have can occasionally bring feelings of resentment towards the band. But in a lot of cases it's nice to have a re-recorded re-freshed and re-packaged addition to compliment the failing, battle ravaged physical copy that you have in your collection since back in the day. Re-issues have now become a thing of excitement. What bonus tracks are we going to get in the new package? How good is the new sound going to be? How good is the 180g splatted vinyl going to look when you unbox it?
We don't need to talk at length about Sacred Reich's music. Their thrash metal credentials are second to none. They were there at the beginning. They played with everyone and in a lot of cases, upstaged many a great thrash metal band back in the day. These three albums are revered across the thrash metal world. From the raw, uncompromising debut 'Ignorance' with the unforgettable opener 'Death Squad' and the thrash metal classic of the title track leaves little doubt of the force that Sacred Reich can muster.
It was brave to cover a Black Sabbath song. Even braver to cover THE Black Sabbath song, 'War Pigs', the highlight of stop gap E.P. 'Surf Nicaragua'. Then the magnificence of 'American Way'. A tour de force in metal. An album that excels in all the hall marks of thrash metal whilst still keeping one step ahead of the chasing pack, an album with everything plus a sting in its thrash tale with its funky brass section and non-judgemental lyrics, it's a left turn that finishes these trio of classics off.
The re-issues are for the completest and the hardcore fans. I doubt very much that any new fans who bought the new album as their first Sacred Reich release are unaware of the classic era of the band. Streaming sites and YouTube have assisted those not born when these were released first time out. The Sacred Reich enthusiast who loves to hear live tracks or demos from back in the day won't be fully satisfied. There is no new material, no new live material, no demos, just the music, as it was back in the day in a brand new box and 180g splatter vinyl to look at.
The music on here is amazing. You'll not have to justify their greatness to anyone. The tunes on here have stood the test of time and then some.