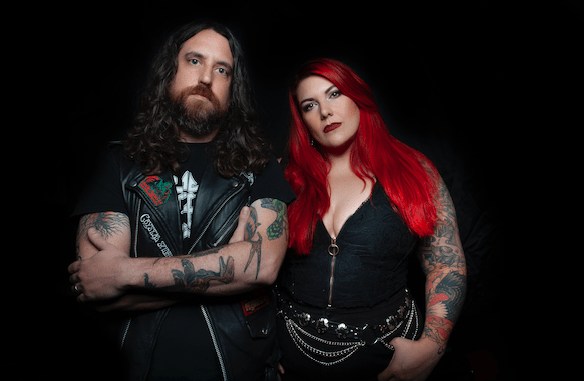 Album Review: Crystal Spiders - Morieris
Reviewed by Matthew Williams
There are not many albums that I sit down and listen to and at the end of it think "WOW what was that all about?" With fuzzed out guitars, soaring vocals and swaggering groove, Crystal Spiders from North Carolina, have followed up their critically acclaimed first album "Molt" with one that will stand the test of time with any other stoner rock album out there.
Yes folks, this album really is THAT good!!!
I didn't know anything about them before this moment in time, what a fool I am, but now they are a permanent fixture in my mind and I have played this album several times over, discovering something new and exciting, each time because the songs are catchy as hell.
The opening track of 'Morieris' is a slow burner, all soft and gentle, before the rhythm starts to kick in, beckoning and summoning you closer, like the proverbial (Crystal) Spider snaring you into its web. The duo of Brenna Leath and Tradd Yancey, ensure that they let their musicianship do the talking and they pull you in from the first moment and keep a vice like grip on the listener, as this truly is a mesmerising album from start to finish. 'Septix' and 'Harness' feel like some sort of hedonistic trip, which you just don't want to end, it really is THAT good!
It was only when I looked at the cover notes did I realise that they have Corrosion of Conformity bassist and complete legend, Mike Dean, on guitar adding a rollercoaster ride of doomy, atmospheric riffs, and 'Offering' is one of the best songs I've heard all year, with the guitar work from Dean being intricate and razor sharp.
The amazing songs just keep on flowing, and I love the way that the core rhythm is never absent, and the musical arrangements allow each instrument to be showcased equally, making the album very unpredictable and raw. Songs like 'Pandora' and 'Maelstrom' will keep you captivated whilst your head bangs and your feet tap, and the final track 'Golden Paw' offers a more laid back feel to the music.
Crystal Spiders have created an album that is truly both captivating and enchanting, whilst being bloody brilliant in equal measure. With quality seeping out of every fuzzy guitar and bass line, combined with the immaculate vocal range and added to the stunning musicianship, this is a definite contender for album of the year in any genre.