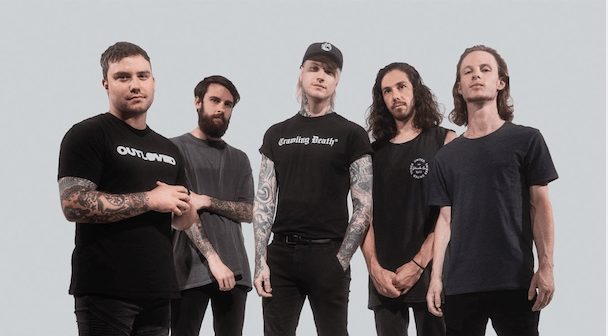 Album Review: Stepson - Help Me, Help You
Reviewed by Matthew Williams
Hailing from sunny Brisbane, Stepson are a 5-piece punk/hardcore band whose first album is a hybrid of melodies, crunching riffs and vocal styles.
Album opener 'Learning to Let Go' has an awesome bass sound, but the change of vocals midway through the track caught me a bit off guard, yet it adds real depth to a very solid opening track that leaves you wanting more. The strong vocals of frontman Brock Alan Conry and bassist Jayden Ridley continue on next track 'Run' with the melodic part diverting the song in a different direction, and with Jordan McDonald's kick ass drums, the song swims along before leading into 'Deeper Sleep' which showcases the vocal harmonies perfectly.
The rhythmic explosion on 'Who Are We' demonstrates the emotion that the band possess but doesn't prepare the listener for 'The Entire History of You' which is, for me, their standout track. The soft beginning lures you in, before the throaty vocal hits you like a punch on the nose. The pounding, punchy drums combined with the blistering bass sound, takes the song to new heights before the pace drops bringing a subtle end to the song.
The next few songs display more of the bands musicianship, combining elements of pop with an acoustic sound, reminiscent of Blink 182, before 'Come With Me' has Stepson back to their hardcore ways, with the guitar work of Nick Bennett and Robert Suthern, delivering a ferociously noisy song. The haunting words of "I never hurt you, like you hurt me" give a sense of agony and betrayal on 'Hush' before the anthemic beginning to 'The Shift, The Blur' gives a crowd pleasing song, and 'Say Something' wraps it all up with a mix of aggression and mellowness, allowing the band to shine once more.
Stepson have delivered an album full of surprises, that feels like getting battered and bruised in a pit before high fiving people on the way out with a smile on your face.