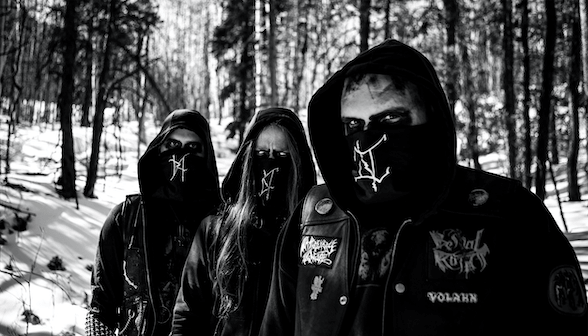 Album Review: Suffering Hour - The Cyclic Reckoning
Reviewed by Paul Hutchings
Dark utterings from Forest Lake, Minnesota and Longmont, Colorado as the three-piece blackened death metal outfit Suffering Hour return with their second album, 'The Cyclic Reckoning'.
Sonic soundscapes collide with the cosmic blackened death, enveloping the listener with extremes, swirling icy tendrils, and contrasting blasts of fiery intensity which singes and burns. Chilling compositions combine rawness with ballistic level drumming and shimmering walls of constant riffing. Suffering Hour's intention seems to be to flatten with a mixture of darkened atmospheric black metal and brooding, lengthy songs. The tracks steadily in length, culminating in the 16 minutes monstrous 'The Foundations of Servitude'.
The combination of styles allows the listener to become absorbed in the multitude of influences that unfurl as the songs begin to expand. There are the intricate carvings of 'The Abrasive Black Dust Part II', and the more uncompromising and aggressive assault of 'Obscuration'. The emotions run wild as the tracks develop, with frenetic riffing, driving double bass kicking and demonic roars that not only create a delivery of massive proportions, but ensure that the listener is quickly absorbed and consumed by the frenetic maelstrom that is unleashed.
The masterpiece of 'The Cyclic Reckoning' is undoubtedly the concluding epic piece, 'The Foundations of Servitude'. The banks of guitars build relatively slowly but swiftly progresses to a pulsing, driving and expansive track that switches tempo with abandon, flitting from blistering hurricane speed riffing to slabs of intense doom-laden metals as well as pulsating and explosive sections. Throughout this turbulence, the the black utterings of DgS emerging from the swirling mists that surround the song. Whilst there are elements of repetition and a downturn in technicality, this is compelling, with the choral voices that briefly break from the gloom adding to the atmosphere. At times a vicious frenzy and a cacophony of chaos, there are also elements of pause, breath and more versatile attitudes laced through this quite enormous undertaking.
The ambitions are high on this record. The production is rugged, at times a little raw, but there can be no doubting the intention and overall, the delivery matches the serious intensity produced. Immersing oneself in the Suffering Hour may require an element of pain, but the results are worth it.