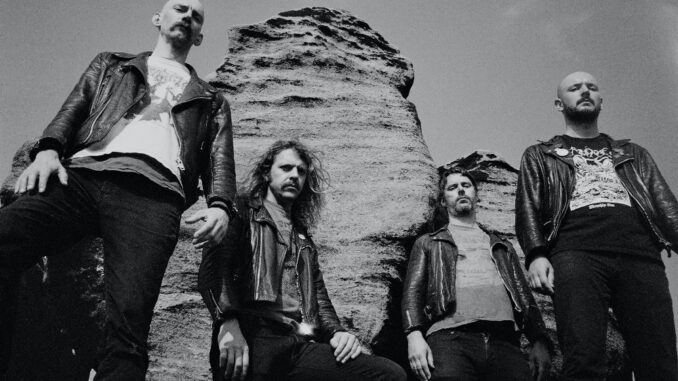 Album Review: Wode - Burn In Many Mirrors
Reviewed by Paul Hutchings
Four long years have passed since 'Servants of the Countercosmos' but the Mancunian black metallers have brooded, composed their thoughts, and now return with their most accomplished release in their decade long musical journey.
Through 40 minutes of scorching blackened metal, the band export a soundscape that conjures imagery a plenty. A vicious edge has been added to the band's sound, their rolling assault more focused, the songs controlled yet still wild and visceral.
Having been blown away by Wode when they supported WITTR a few years ago, this was an album I was waiting for with some anticipation. It's been worth waiting for as 'Burn in Many Mirrors' takes the many excellent parts of their sophomore album and throw them into the molten pot to create a savage, punishing and blisteringly heavy release that blends thrash elements with classic heavy metal, a snippet of death metal and the domination thread of black metal.
Casting lengthy intros aside, Wode waste little time with opening track 'Lunar Madness' erupting in a cacophony of fierce riffs combined with harrowing screams and a frantic, punk-tinged energy that pushes the limits. Snarling, primeval vocals tear and rage, whilst the faintest sliver of melody surfaces. It's a blistering start which sets the tempo for the whole album. This is fast, aggressive and works superbly.
Opening with such a powerful song, the pressure is on for the rest of the album to follow suit. Taking a more traditional approach, 'Serpent's Coil' contains, dare I say it, a groove vibe that gets the head banging but it's all wrapped up with the firepower that Wode bring.
Elements of punk, steamrollering rock n' roll ('Fire in the Hills') and the nasty rawness of their earlier records are all present. It's a smorgasbord of influences, all wrapped up with a darkness that hangs heavy. 'Burn in Many Mirrors' doesn't slow at any point. In fact, the pace is relentless, until we arrive at the finale, 'Streams of Rapture (I, II, III)'. This opens with a solitary keyboard and drums from the deep, introducing the track with a sombre and atmospheric feel before the banks of riffs and machine gun drumming kick in. The razor-sharp guitar work, the demonic growling and the sheer intensity of the song combines to provide a fitting concluding track to a highly impressive third record.