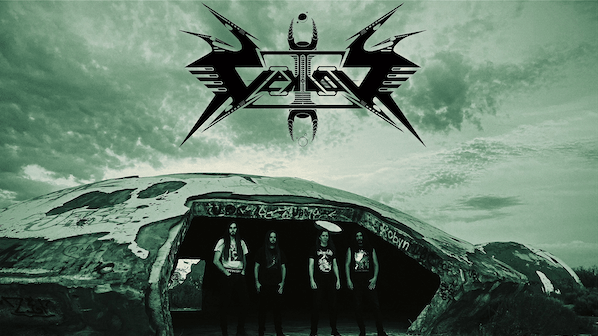 E.P. Review: Vektor - Activate
Reviewed by Paul Hutchings
If you were paying attention in February, you'll have seen that Vektor, the progressive thrashers responsible for 2016's impressive 'Terminal Redux' had released a limited-edition split LP with Dutch progressive monsters Cryptosis. Now both the tracks featured on that split are released and which feature the new band members drummer Mike Ohlson and bass player Stephen Coon who join David DiSanto - vocals & guitar and Erik Nelson - lead guitar.
So, here's the challenge when writing this review. Vektor split in 2016 amidst allegations of domestic abuse by DiSanto against his wife. Apparently, there was video footage of unacceptable behaviour circulated on various sites. The band's return in 2019 was greeted with joy from the many fans, but with dismay from campaigners against domestic violence. Looking into it deeper, there are numerous comment pieces and statements online about the incident, and the allegations of poor behaviour by DiSanto, much of if blamed on his drinking.
I can't find anything to confirm that DiSanto was convicted of domestic abuse, but that doesn't mean it didn't happen. I worked with victims of abuse for several years when I was a homelessness officer for Cardiff Council. Some of the stories were unbelievable, the abuse abhorrent. The figures for domestic violence in the UK make harrowing reading with 2.3 million adults experiencing it every year (Source: www.ons.gov.uk)
The release of 'Activate' and the split E.P. with Cryptosis opens a debate that seems unusually uncomfortable in the metal community. Should we welcome back a man and band who will forever be tainted with the 'abuser' tag? Recent stories of Marilyn Manson's alleged conduct have resulted in him being shunned by his record label, PR company and most of the metal world. Tim Lambesis has rightly been disowned by many metal fans but has returned to As I Lay Dying. Link this with recent protests from women to reclaim the streets in response to the senseless killing of Sarah Everard and I hope you'll get to the root of my discomfort.
I'd suggest that you make your own mind up on this E.P. Whether you even listen to it is completely your choice. Morally, should I have even played it? I don't really know. But I did and really liked it, which makes the challenge when given the recent background even harder. Nothing further from me on this E.P.
If you are suffering from domestic abuse, there are agencies out there. The National Abuse helpline https://www.nationaldahelpline.org.uk/ can help. The Samaritans will listen and can listen and signpost https://www.samaritans.org/