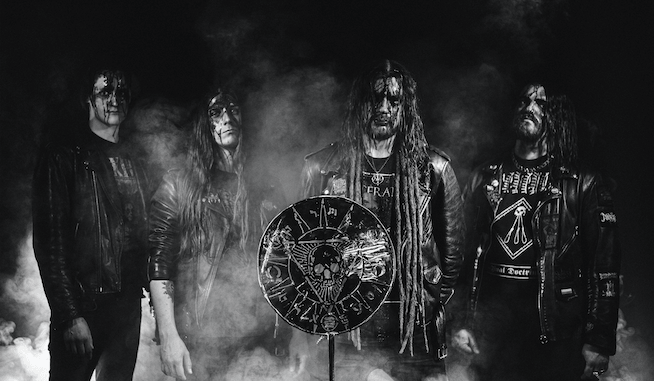 Album Review: Crypts of Despair - All Light Swallowed
Reviewed by Paul Hutchings
Pummelling their way into your consciousness, Lithuanian death metal four-piece Crypts of Despair's sophomore release is a fine slab of demonic, aggressive music that combines ferocious razor-sharp speed with slab dragging epic doom-soaked segments. It's a gnarly, punishing listen.
Having formed in 2009, it took until 2017 for the band to release their debut record, 'The Stench of the Earth' which received a solid response. 'All Lights Swallowed' moves forward from that first album, and the Lithuanian outfit present nine songs that are likely to rip the skin from your body.
Aided by a crisp production which emphasises the technical elements that are often dismissed in this genre, the album opens with a severe face slap in the shape of 'Being – Erased'. Crypts of Despair are cohesive, the intricate interplay between guitarists Dovydas Auglys and Benas Juskus given room to breathe above the blast beating of drummer Henri Mall and the low rumbling bass of Simonas Jurkevicius.
Third track 'Choked by the Void' casts a different atmosphere to the first couple of tracks, whilst the diabolic feel cascaded into 'Condemned to Life'. The music is ferocious; a heavy wall of relentless riffing, multiple changes of tempo allowing the neck limited time to recover, and the harrowing screams and roars of Auglys and Jurkevicius leave a boot print on the soul.
If it an unrelenting barrage of death metal that you are after, the short brutality of Synergy of Suffering will tear a gash in the flesh. There is even more ferocity on The Great End, one of the longer tracks on this album. It's the ability to create an eerie ambience that works so well throughout the record, the echoing dissonance merging seamlessly with wave after wave of devastating aural assaults. Underneath the music hangs an unnerving, slightly disturbing atmosphere. It maintains the attention and the impact through the 38 minutes.
The tsunami of death metal that has swelled over the past couple of years shows no signs of slowing. Picking bands worthy of your time is a challenge. Crypts of Despair would be one worthy of your interest.