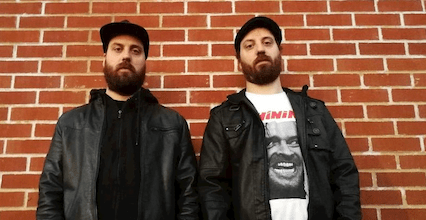 E.P. Review: Wall - Vol. 2
Reviewed by Paul Hutchings
APF Records have a reputation for releasing high quality music, and this sophomore E.P. from Wall is no exception. 18 minutes of crushing instrumental stoner doom, delivered in five tracks that range from five minutes to a minute in length.
It's unsurprising of course, as this is work from Desert Storm's Elliot and Ryan Cole, who have been plying their trade for over 15 years. As well as being two parts of The Grand Mal, it was lockdown that inspired the brothers to scratch the creative itch that burned during the pandemic whilst Desert Storm were unable to tour. The debut E.P., the self-titled Wall, arrived in January and now the follow up, surprisingly called 'Vol. 2' continues where that left off.
'Vol. 2' is once more quintessential worship at the door of Sabbath and in particular Tony Iommi. But what makes this record so enjoyable is the driving power which simply surges through the five songs. There's a fabulous retro vibe but we know only too well that this is no living in the past (that would be Jethro Tull of course!) The blood and thunder of the aptly named 'Avalanche' that engulfs you in the opening few minutes is well warranted and kicks the door well and truly in. The pacey groove of 'Speedfreak' with a killer riff and punchy tempo demonstrates that these guys are all about the riff, and not the lumbering leviathan so many stoner doom outfits appear to favour. This is a track you can bang your head, dance or simply absorb. All three are appropriate. All three are demanded!
'Vol. 2' also features a cover of Karma To Burn's 'Nineteen', released as a tribute to friend Will Mecum who sadly passed away in May. With Desert Storm and Karma To Burn firm buddies on the road, this is a fitting tribute to a fallen comrade. "It feels right to share it now with the sad news of his passing. It's been an honour knowing you, Will. Rest in peace".
Check back NEXT WEEK for our interview with Ryan and Elliot!