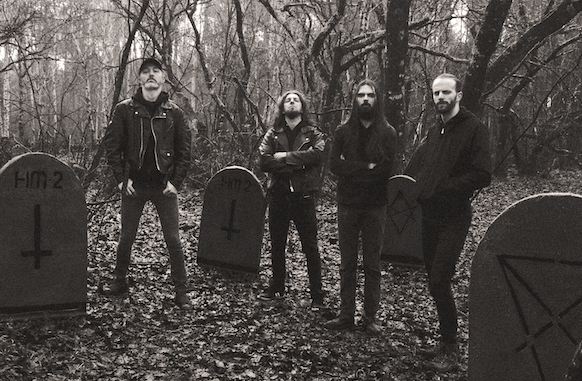 Album Review: Iron Flesh - Summoning The Putrid
Reviewed by Paul Hutchings
In a year of pulsating and explosive death metal, fighting to get a look in at the top table is becoming ever more vicious. The second album from Bordeaux based four-piece Iron Flesh will be butting heads to find a seat though, for this is a mighty slab of old school HM2 powered chaos.
Formed in 2017, the band have already released two EPs, their debut long player 'Forged Faith Bleeding' and a live album. 'Summoning the Putrid' isn't purely old school worship. There is, dare I say it, a decent amount of variation underneath the flesh and bile that the French outfit produce.
In the main, there is everything you'd expect. Visceral riffing of guitarists Sylvestre Alexandre and Julien Helwen, who also adds the throaty, rasping vocals, and the punishing breeze block cracking engine room of bassist Sebastien Lalanne and drummer Gulheim. Full raging bulldozer death metal is the order of the day with the double whammy opener 'Servants of Oblivion' and 'Relinquished Flesh' before darkness descends and Iron Flesh move to a slower, heavier doom-laden approach for 'Demonic Enn'. As their blurb points out, there are as many nods to old school Paradise Lost as there are to Asphyx and Bolt Thrower.
Don't worry if you want your cerebral hammering though because Iron Flesh can throw down with the best of them. What they do well is to take the main ingredients of the OSDM and throw them screaming into a cauldron of other influences. The result is songs such as 'Incursion of Evil', which races along with searing solos, the pulverising 'Thy Power Infinite' which has plenty of melody surging underneath the brutal battery that coats it. Elsewhere, the slower, thundering of 'Death and The Reaper's Scythe' show that Iron Flesh are more than just an OSDM worshipping band. Indeed, there is blackened and furious thrash and more measured, heavy metal present.
The death metal scene is crowded, with bands producing solid releases week after week. Iron Flesh may just have pulled enough out of the bag to get to the premier league with a album that provides enough variation to interest even those whose tastes rarely extend to the extreme.