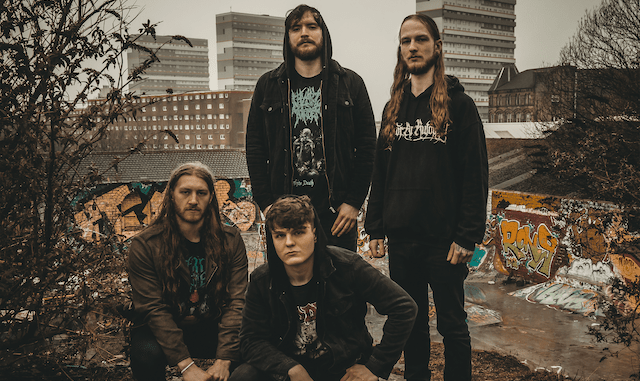 E.P. Review: Dominicide - The Architecture Of Oppression
Reviewed by Matthew Williams
Thrash metal can take many forms, and it means lots of different things to lots of different people. It's aggressive, fast, noisy, violent, yet can be subtle, meaningful and melodic. And the thing I like the best about the genre, is when bands take a few risks and combine different elements to forge a different sound, and this is where we arrive perfectly at with Dominicide.
I'll be honest, I'd never heard of them before this dropped into my inbox, but after giving their E.P. a few listens, it's a name that I'll be looking out for to see how their career progresses. They have managed to combine elements of death, technical and thrash, to deliver four songs of insanely high quality.
The Glaswegian four piece, led by original member Craig Law on vocals and guitar, have created a modern, unique sound that pays homage to the titans of the metal genre. From the opening drum roll on 'The Empowered', they pummel your face into the dirt, before stealing your lunch money, and laughing inanely as passers by stare at them. Its full of memorable hooks, blistering drums from Oskar Mazurek and the right blend of speed and aggressiveness, with the midpoint solo being delivered sublimely. Its also full of melody and rhythm, and if this doesn't get you up out of your seat and headbanging, then nothing will.
So how do they follow that up? Well, with an even better song entitled 'The Orchestraitors' which is full of shreds, blasts and breakdowns. The screaming vocals draw you into a song, that has pace and attitude stamped all through it whilst guitarists Craig Law and Louis Chesters, combine so well, keeping the tempo high, both offering the song something different vocally, and then come the solos… Ahhh the solos; fast, technical and thrashy, what more do you want?
The next slab of metal goodness is entitled 'Theocracy' and merely piggybacks on the previous two songs, the riffs are plentiful, though more melodic, the drums are heavy and fast and the subtle bass from Liam McCafferty, is embracing the madness and moving the song along at a rapid pace. It's the composition that impresses me most of all, even the little deathcore break towards the end of the song has me hooked in, I can just imagine the pit being a heaving mess of sweatiness when this song plays.
'Reincarnate' brings the E.P. to an end, but it doesn't dilute the quality at all, it merely enhances their reputation further, as it once again demonstrates the fine musicianship on display from all 4 band members and solidifies what can only be described as a blockbuster listening experience. Get ready people, as Dominicide are ready to kick your heads in and deliver what thrashers want!