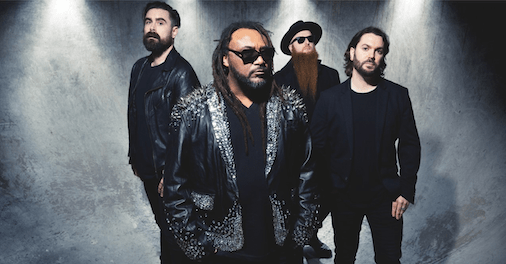 Album Review: Skindred - Roots Rock Riot
Reviewed by Paul Hutchings
There's a pride in South Wales that only a band like Skindred can generate. The band from Newport, a city that has been in decline for the past few decades, have clawed their way up from the basement of a boxing club to be one of the must see acts at any festival across Europe and we loves 'em. Their live shows are always hugely enjoyable, energetic with a passionate, loyal and ever-expanding audience. The band has headlined Brixton Academy, Steelhouse Festival as well as high level slots at Download, Bloodstock, and numerous European festivals. Formed from the ashes of Dub War, the band's history is well documented. 2004's Debut album 'Babylon' gave notice to the world of their unique ragga-metal style before the permanent line-up of vocalist Benji Webbe, bassist Daniel Pugsley, guitarist Mikey Demus and drummer Arya Goggin grouped together to make that difficult second album.
'Roots Rock Riot' was recorded in the USA and released on 23rd October 2007. The band termed their music ragga-metal with tongue firmly in cheek. Whilst it didn't chart, it's one of only two in the Skindred catalogue that didn't, with more recent releases all breaking the Top 30. Released for the first time on vinyl, 'Roots Rock Riot' is a massively important record in the band's foundations.
'Babylon' certainly contained some favourites that remain in the set today; think 'Nobody' or 'Pressure' and you'll probably still feel those bruises from that first Skindred pit. But 'Roots Rock Riot' saw the boys from the 'Port up the level, with track after track bursting with energy and passion, hooks and those irresistible beats that drove even the worst dancer to move.
The Skindred blend of metal riffs and Jamaican music might not have been the first time that such sounds had been heard, but songs such as 'Rat Race', the in-your-face 'Trouble' with its huge riff, the pumping electrofusion of 'Destroy the Dancefloor' and the explosive title track that opens the album sound as fresh today as they did 14 years ago. In fact, 'Roots Rock Riot' is the ideal Skindred album in many ways. It captures the vibrancy of a band hitting their stride, the songs tight, the band locked in and the enthusiasm unbounded. Alongside the metal edge, the balance of songs included the reggae flavoured State of Emergency, the ska tinged 'Rude Boy for Life' and the darkness of 'Spit out Da Poison', still one of my favourites with its sudden aggression and vicious groove that you can't but help bounce around the room to. In fact, this is an album with absolutely no filler, each track gets into your face and when the album finishes you hit repeat. It's a peach of a sophomore record.
This release adds a couple of bonus tracks. 'It's A Crime' (previously only featured on the Japanese release) and 'Struggle' (never released), whilst the CD release also contains both those tracks and an acoustic version of 'Destroy the Dance Floor'. The former duo may not have the immediacy of those on the album, but they are decent inclusions. 'Struggle' sees Skindred in their vulnerable, stripped back form and allows Benji to sing beautifully through a gentle acoustic song, a side that we don't often see.
It's taken Skindred almost 20 years to earn their status as one of the best UK bands around It's a deserved accolade, built on hard work, constant touring and a live show that is unbeatable. 'Roots Rock Riot' is an album that brings back memories of sweaty club gigs, of a raw and energetic band who wore their hearts on their sleeve. They still do. If you aren't familiar with one of the finest bands that Wales has ever produced, then 'Roots Rock Riot' is the ideal album to rectify that serious faux pas.