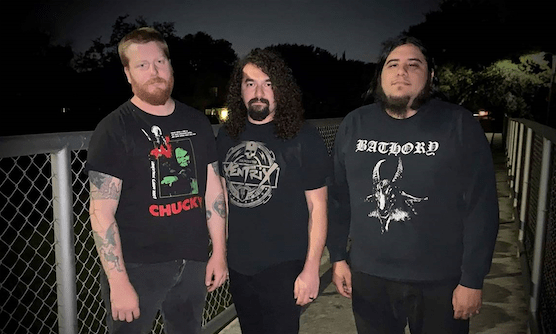 Album Review: Aggravator - Unseen Repulsions
Reviewed by Neil Bolton
After the release of their first demo in 2010, Aggravator have been carving out a career and gaining traction on the world metal scene. With the tragic death of guitar player Jesse Lopez, Aggravator went on to record an E.P. containing some of the last works of Lopez and closing a chapter on the four piece line up. Now signed to Empire Records, Aggravator look towards a new horizon with this album 'Unseen Repulsions'.
The first song and title track begins with a brief drum roll and we are THRASH!
Immediately all the treasured hallmarks of this genre burst into view. Clean but nasty vocals sing over a technically accomplished band. Not long before we get to the riff breakdown causing metalheads to smile and head bang, while reaching for white high top trainers and a bullet belt or studded wrist band. This short blast of a track concludes with speeding aggression seen in bands similar to Kreator and is most welcoming.
This Teutonic flair continues in 'Fragmented Identity' and the thrash pummelling persists. Again, amazing riffs carry the tune to metal heights and blistering guitar solos. A technical element burns quietly making the music interesting and heavy. 'Searing Gas Decomposition' has speedy guitars leading the listener into the thrash maelstrom and keep them there. These San Antonio/Texas thrashers know their European thrash very well and do extremely good justice to the sound. Once again a perfectly played, air guitar inducing, solo sees this track out and 'Infinite War' begins. Heavy metal pours from the speakers contaminating any fan listening. I say fan because if you like your thrash then you are already a fan of this album, you just may not know it yet. The precision of the crunch, and power of the riff is compelling and irresistible.
'Bounty Hunter' has a comparatively more traditional heavy metal feel with the aggressive vocals showing no difficulty with a slightly different sound, as a N.W.O.B.H.M. sound is not that far away from thrash metal so the blend is seamless. The sixth track 'Seven Swords' is a short drum lead blast of the sound you would hope an album finale to be, finishing off an excellent example of thrash contained in an excellent album cover fitting for the music inside.
Even though I am disappointed that this is just a brief twenty minutes, this album is killer with no filler and highly recommended to any fan of thrash, be it Teutonic or not.
Aggravator release 'Unseen Repulsions' via Empire Records on April 16th.