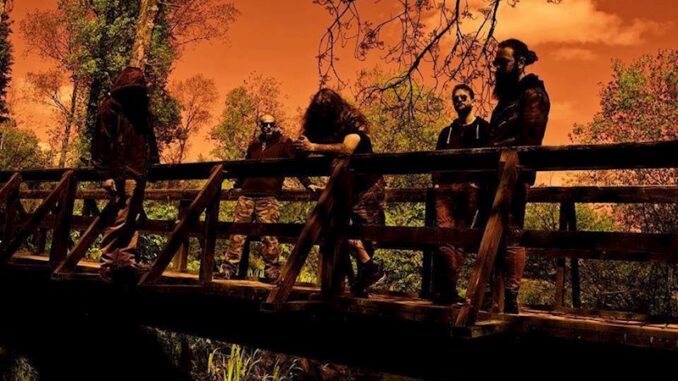 Album Review: Soothsayer - Echoes of the Earth
Reviewed by Neil Bolton
A strange atmospheric blend of chants and spoken word is the intro to Irish doom/sludge band Soothsayer's first full length album. Once the foundation laying opening subsides, the tone is continued briefly again as 'Outer Fringe' starts, wetting the appetite for what is to come.
What comes is a powerful voice growling over somber guitar tones that portray both doom and anguish. The album revolves around the concept of nature having enough of the destruction we have caused upon this planet and is now fighting back. It is mid paced and beefy with a pleasing beat and rhythm. The vocals are massive but are contained a little lower in the mix preventing them from being over-bearing and dominating the whole event. The atmospheric chants from the intro see the tune to its conclusion until the opening of 'War of The Doves' sets in.
A bass line and wailing voice accompany the listener into this one; drums set the tone and then every thing halts leaving only a base to carry the tune until the nasty aggressive doom sludge sets in again. Liam Hughes's vocal talent has an excellent range, from snappy shouting to all out death roar. He is accompanied by various guest vocal slots throughout the album such as Dave Ingram (Benediction, Hellfrost and Fire) and Eugene Robinson (Oxbow). An impressive crunchy mid section demonstrates the band's musical variations, and hours in the practice room too.
With a running time of five and a half minutes, 'City's of Smoke' is a brief one in comparison to what we have had before. A more traditional metal vibe flows through this track with a delicate guitar solo adding more layers to an already multi layered album.
Now back to the longer style number, Soothsayer once more show the skill of atmospheric song building, combining with the skill to make a listener grin and sway to the music on first listen. The final track continues the lengthily song theme with groove and swagger. Vocal style mixes once more with both relaxing and invigorating music till the end.
There is an unearthly haunting element to Soothsayers type of sludge doom, and it's a welcome one. Musically it is never just one genre and vocally it is always impressive and intoxicating. A debut album of this high quality bodes well for this band.