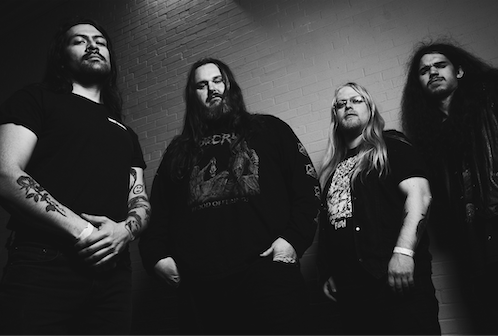 Album Review: Steel Bearing Hand – Slay In Hell
Reviewed by Richard Oliver
Hailing from Texas, Steel Bearing Hand are a band that combine two of my great loves - thrash metal and death metal - on their new album Slay In Hell that to put it simply absolutely fucking rips. Forming in 2009, Steel Bearing Hand released their self titled album in 2015. They parted ways with their co-founding drummer in 2016 and since this new line up has been busy refining their sound and entered the studio in 2019 to record this ferocious beast of an album. The results very much speak for themselves.
If you love old school thrash and old school death metal then this album was made for you. It perfectly combines the chaotic energy of thrash with the malevolent violence of death metal in absolutely blistering form. The six songs that make up Slay In Hell are absolutely savage pieces of blood-splattered aggression with some songs veering towards the thrash side whilst others veer more to a death metal sound. Songs such as Command Of The Infernal Exarch and 'Til Death And Beyond burst forth with an irresistible energy and breathtaking speed whilst Tombspawn slows the page with death metal chugs before exploding in its second half. The most varied song is the 12 minute album closer Ensanguined which has thrash speed and death metal carnage in plentiful amounts but also slows to an almost doom-like crawl at times.
Steel Bearing Hand have managed to record an album that encapsulates all that I love about thrash and death metal into 40 minutes of grin inducing metal savagery. Everything here lands perfectly - the riffs are absolutely savage and designed for wrecking necks, the lead guitar solos absolutely rip, the bass pounds away, the drums batter with some absolutely savage blast-beats and the guttural death metal vocals summon hell and beyond. The production is raw enough that is sound suitably gnarly but with all instruments having great clarity. If you worship at the altar of thrash and death metal then this album is an absolute must hear. I loved every second of this album and my pre-order has already been placed. Thrash 'til death!