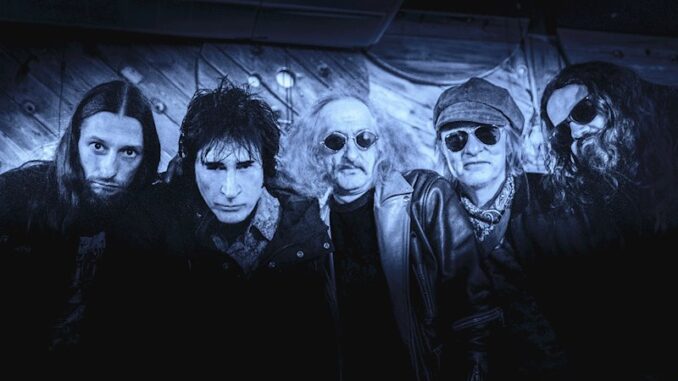 Album Review: The Limit - Caveman Logic
Reviewed by The Papist
The Limit, now who are they! Well they are a five piece who come from three genre founding bands, The Stooges, Pentagram and Testors; with the remaining two coming from the Portuguese metal band Dawnrider. So where does this album fit in sound wise then? It is a good old dirty rock and roll punk album that is one hell of a foot tapping grin bringer.
So we have 'Caveman Logic', a twelve track sunny day blaring it out album. Now if anyone said you mellow with age, give this a listen! Its an in your face 'fuck you' to a few things and the more I listen to it the more I like it.
Fave tracks? Well I have got a cracking selection here as they are all good, there are a couple that really stand out for me as just masterpieces of that punky rock and roll, and this ain't no pop bop along. The opening track 'Kitty Gone' just grabs your ears and makes your foot tap and your head keep time. Blistering guitars and dirty riffing open this one up and it's a catchy one to the core. 'Black Sea' is the next track and shows the diversity on the album as this takes you more on a rock vibe, strong throughout and just great song writing. 'Over Rover' starts off nice and slow then just off it goes and hits ya like a hammer, the type of song you just turn up and don't care what the neighbours think!
There is such a good mix of rock 'n' roll and punk rock and attitude on this album that you cant fault it. The title track is a good rock track and gets ya foot tapping and thinking how would this sound live as do they all!
The album closes on 'When LIfe Gets Scorched', it's a mid paced rock track and like the rest of the album delivers. The whole album has a great mix of corking songs, not a weak track on this album and delivers a punch on the nose dirty rock and roll from start to finish.
I hope they do more albums, because this one delivers everything I wanted. Banging songs, great sound, blistering solos, hard punchy riffs and vocals that hit what this is all about.
ICYMI - Check out our interview with Sonny Vincent and Bobby Leibling about the making of the album here.