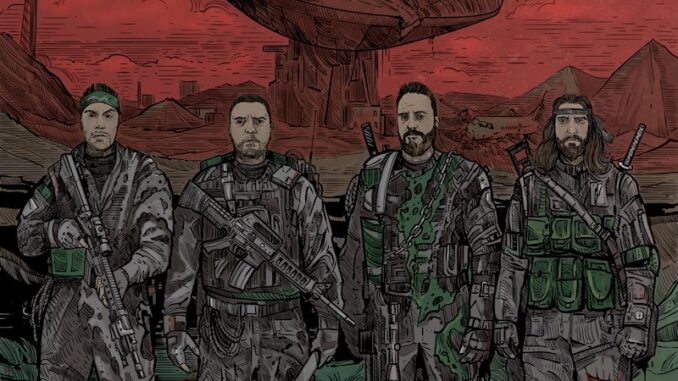 E.P. Review: Warcall - Dead End Pt. 1
Reviewed by Paul Hutchings
Let's face it, metal bands do write well about life in a post-apocalyptic setting and Montreal's WarCall are not about to let the metal world down with the first part of two E.P.'s being released in 2021. Unsurprisingly, the last 12 months has contributed to the overall doom and gloom of life and the human reaction, albeit the pandemic is not the sole theme behind the E.P.
With four L.P.s behind them already, the Montreal band, who have been around for well over a decade deliver a fiery four songs that have elements of thrash and heavy metal throughout. The music is muscular, the band posture with a welcome defiance and generally throwing of the collective fist in the air and causing the neck muscles to twitch.
Influences range from Maiden, Slayer, Metallica, Dissection and Motörhead, with a melody that works sweetly with the powerful riffs, the driving rhythm section, and the snarling, gargling vocals. Setting the scene with 'Reckless', it's the eight-minute punisher 'Death Wish' that allows WarCall to flex those metal muscles. That they do this in some style is a credit to them.
This is an E.P. which rages, the thick riffs and battering drumming sweeping through each of the four songs. It's a blitzkrieg of an assault, the combination of melody and ferocious savagery working neatly. It's certainly fast, blurring the boundaries of speed, power, and thrash metal. The final two songs, '800x' and the speed metal blurring of 'The Chase' maintain the momentum which is frenetic from the start.
Proudly citing themselves as a DIY band, WarCall were able to record the E.P. at various band members studios. Producing, mixing, and mastering themselves, this is really a self-sufficient beast that is straining at the leash to return to the live scene. The band have captured their rough and ready sound and it's one that is pleasing from beginning to end.