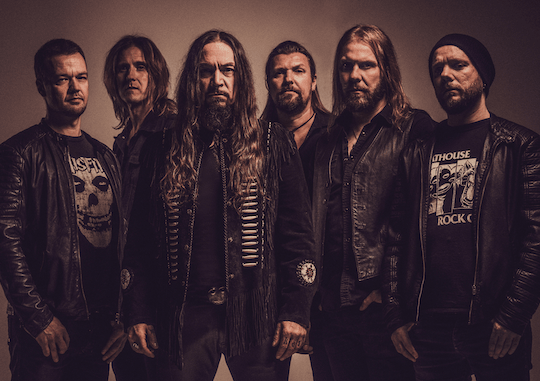 Album Review: Amorphis - Live At Helsinki Ice Hall
Reviewed by Richard Oliver
Can you remember back to the time when you could experience music with other people outside of the confines of your own home? When a live event was experienced in a venue with other people rather than transmitted onto a screen? Amorphis have given us a reminder of those glory days with a new live album which was recorded towards the end of 2019 in their home town of Helsinki at the Helsinki Ice Hall. Playing this venue always seemed like a dream for the band who saw bands such as Iron Maiden, Deep Purple and Metallica amongst others play this same venue when they were kids. Amorphis have always been pioneers and flag bearers for Finnish metal and so playing this venue is well deserved and the show recorded captures the band at their jaw dropping best.
I've been lucky enough to see Amorphis play live a handful of times and this album does a fantastic job of capturing their passionate performances. Very little has been fixed in post production and so this is a very honest capture of the Amorphis live experience ably assisted by a fantastic mix and mastering with every instrument sounding full and crisp and every member of the band given their moment to shine. This live album also reinforces my belief that the hiring of Tomi Joutsen as the bands singer in 2004 was the best decision the band have made as he sounds absolutely magnificent effortlessly switching between his fearsome death metal ground and his absolutely gorgeous clean singing voice. The show was recorded at the end of the Queen Of Time tour and so has a heavy inclusion of material from that fantastic album such as The Bee, Wrong Direction and The Golden Elk as well as other songs from Tomi's time with the band such as Bad Blood, Sampo, Silver Bride and House Of Sleep. Fans of their early days are also treated to stunning renditions of old school classics such as Into Hiding, Against Widows, My Kantele and Black Winter Day. The only eras of the bands ignored are their prog-heavy material from the late 90's and early 00's and their pure death metal beginnings but there is only so much material that a band that has been going for 30 plus years and has 13 albums can squeeze in to a set.
Live At Helsinki Ice Hall is a fantastic live album from the Finnish legends and truly captures them as the well oiled live machine they were before the pandemic came along and ruined everything. Guitarist Tomi Koivusaari has stated that listening back to the album has made hum realise how much he misses playing live. After listening back to this album myself it has reminded me how much I miss live music and how desperate we all are to see the return of live music. Hopefully that time is coming very soon but until then live albums such as this are a timely reminder of what we had and how when live music returns we must not take it for granted.