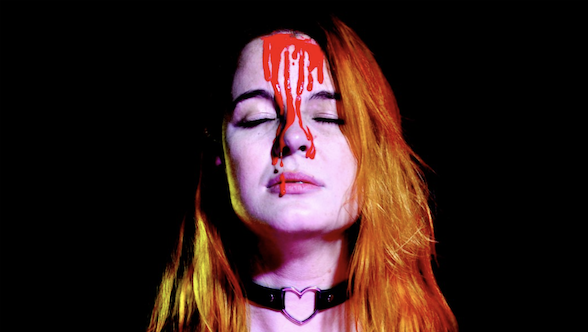 Album Review: Noctule - Wretched Abyss
It's safe to say from the moment it was announced, we were very much looking forward to 'Wretched Abyss', the new album from Noctule masterminded by Serena Cherry of Svalbard. So much so that two of our writers have submitted reviews for it.
So here are Robbie Maguire and Paul Hutchings opinions on the new Noctule album!
Reviewed by Robbie Maguire
Over the past year and with the inability to tour and promote 'When I Die, Will I Get Better' by her primary band Svalbard, guitarist and singer Serena Cherry has put her time to productive and creative use. With her one woman project, Noctule, Serena heads back to her musical roots and celebrates the wondrously hypnotic beauty that can be harnessed within the visceral power of Black Metal.
There is little if no time to prepare for the onslaught of 'Elven Sword'. Twisting and turning in its relentless drive the savage opener hints at the melodies and enchanting atmosphere that will become such a key part as this alluring and engaging journey reveals itself in its graceful magnitude.  An avid fan of the fantasy role playing game Skyrim Serena felt Black Metal and the award winning game would go together so it made sense to compose a soundtrack with the mystic worlds dungeons, weapons and storylines of the game as the central theme.
As the haunting richness of 'Labyrinthian' unfolds such vivid pictures of the distant fantasy lands are created when the guitar leads dance buoyantly around each other. Delicate acoustic notes warmly complimenting the punishing and fiery tremolo guitars.  Ethereal choral singing is not only beguiling but blissful in its sheer haunting beauty and a welcome foil to the grit of the anguished screams. Multi-layered and meandering through gritty, blackened and desolate soundscapes with a driving energy on this Noctule debut Serena has created moments of staggering beauty yet other instances of staggering bombast and weight. However, throughout there is a sense of escapism and a radiance that shines through repeatedly. A shimmering brightness and whilst you are pulled into the tumultuous whirlwind of ferocity as in the 'Wretched Abyss' it is the synths that form the centre piece. Never over the top, they are the link tying the whole journey together.
A central part of 'Evenaar' is the looping infectious riff.  Razor sharp leads, a glistening black gaze shimmer, genius placed drum fills and again those bewitching clean vocals all play a wonderfully collaborative part in a mystic and evocative song that never over complicates. Whilst the depth of the songs cannot be underestimated there is as simplicity in that everything is so immediately listenable. This is not a hard listen. 'Deathbell Harvest' possesses a joyous union with the brightest, ascending guitar lead and Serena's dreamy and alluring vocals which for its limited uplifting moment makes you realise how life affirming music and in particular Black Metal can be. With a blackened power metal feel the track revels in a soaring sense of epic ness.
As the film score-esque 'Become Ethereal' gracefully pushes the journey that is 'Wretched Abyss' to its climaxing destination, it's an emotive, inspiring and bold conclusion. The evocative and deeply rich strings play over fragile delicate strains of piano in what is a masterstroke to create such stripped back music which is as compelling and immersive as this.
With an ability to be more than just an aural experience Black metal at times is bleak, dark and uncompromising yet as displayed here it can be warm, enlightening and emotionally gripping. Allow 'Wretched Abyss' to be your companion as you venture through the fantasy lands that have informed this album.
Reviewed by Paul Hutchings
Long before Svalbard formed, Serena Cherry's blackened heart was given over to her first love; the darkness that dwells within the enveloping mysticism of black metal. The music that delights in the gloom, the shady, frost coated forests and the chilling glow of black candles. Serena served her apprenticeship playing in black metal bands but that desire and burning has been lurking in the shadows for much of the past decade, as she focused her energies on Svalbard (and rightly so, given the band's soaring appeal in recent times).
Cue lockdown, and a time for reflection, regrouping and opportunity to coax those early desires and influences back from the shadows and into the open once more. The result is an eight-track solo project called Noctule. The Common Noctule is an insectivorous bat, the largest in the UK and common throughout Europe. The Noctule is a migrating species with a female bias, meaning the females migrate whilst the males do not. A more apt name is hard to imagine.
'Wretched Abyss' is an album based on the RPG computer game 'Skyrim'. It's something that means nothing to me, but will no doubt resonate with the many metal heads who I understand make up part of the millions across the globe who have played this long running saga. Excuse my ignorance. Each track is about different story lines, dungeons and weapons that feature in the game.
Whilst tracks such as the ferocious opening 'Elven Sword', crammed full of interlocking tremolo riffing, pummelling blast beats and Serena's full throated reverb drenched vocals echo across the sky, there is balance with 'Labyrinth' which follows. Sweet melodies underpin the song, which breaks into a gentle passage towards its end. The music is impressive, weaving hypnotically around you as you listen. This should be magical to see when Noctule play Incineration Fest in 2022.
There's nothing I dislike on this album. The title track is stunning, 'Evenaar' is a beautiful balance with a much more mellow vibe although Serena maintains the rasping vocals but overdubs them with some dreamy backing voices. The guitar work is pleasing, effortless and polished yet retaining a rawness that gives this album an organic, natural feel.
I found myself immersed in the music, drawn into it in a trance-like state and that's without any understanding of the meanings behind the songs. So, for those who fall deeper into Skyrim, 'Winterhold' and 'Deathbell Harvest' should resonate. There's something quite captivating about the whole UK black metal sound, and the variations that exist within it are extensive. With Noctule, Serena has done more than demonstrate how good a musician she is (playing everything herself). She's crafted an album of some quality, and one that is already on order.