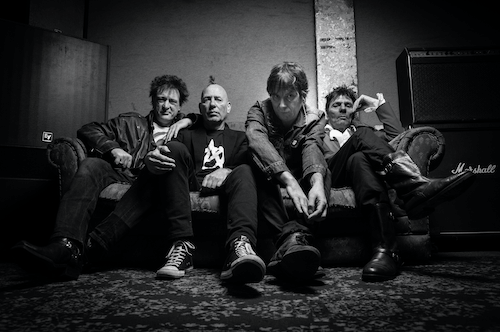 Album Review: Chelsea - Meanwhile Gardens
Reviewed by Dan Barnes
Chelsea are one of the original '76 Punk bands, contemporaries of the likes of The Clash, The Stranglers and the Pistols, but rarely are spoken about with quite the same reverence. Such was the fluctuations in personnel back in the formative days that three-quarters of the band would up and leave to form Generation X, including one Mr William Board, aka Billy Idol.
Chelsea's history is fascinating and complex and way beyond the scope of a short album review, so I'll avoid, where possible, any Memory Lane rambling from here on in and focus solely on the music to hand.
Meanwhile Gardens, the band's twelfth studio record, is released in celebration of Chelsea's forty-fifth anniversary and arrives four years after 2017's Mission Impossible. Named after a piece of reconstituted industrial wasteland in south London, the album opens with the title track, a nostalgic ode built around comforting '76 punk vibes.
There's plenty to get the memories turning back to that long-hot summer on offer here: whether it be Shine the Light, Cold Cut or the bitter-sweet Falling Apart, Meanwhile Gardens is filled with the sounds of those early punk years.
However, this is not the pure nostalgia trip Chelsea could easily have made, rather it's the sound of a band flexing their musical muscles and modernising their song-writing for a new generation. You won't find any reinvention of the Chelsea wheel here, but you will find a dozen-plus examples of melody-rich, catchy-as-heck punk pop.
Lead track, Ca$h, opens with a cash-register, ala Pink Floyd, before channelling the band's inner Damned. Here & Now, The Great Divide and It's Friday are all created around a much fatter sound; the latter's celebration of everyone's second favourite day of the week being somewhat more Politically Correct than Infa Riot's Friday, Oh Friday.
There's a great Rock and Roll feel about both Why Aren't We There? and Little Venice and, just to show that after forty-five years the old flame still burns, Worldwide Domination's abrasive sound drips with snotty Punk attitude.
Chelsea is joined by some ghosts of their past in the shape of Martin Stacey and Bob Jesse from the 1977 line-up; James Stevenson who appeared on the debut album and Rob Miller from the Traitor's Gate-era. The Cannibals' Mike Spenser provides harmonica on Ladbroke Grove and, welcome as these supplements are, they do not detract from the solid unit that is Chelsea c. 2021. Gene October serves up a vocal masterclass here and the guitar of Nic Austin goes effortlessly from clean and jangly to heavy and shredding.
Chelsea may not have received the commercial success or critical acclaim of some of their more illustrious contemporaries, but Meanwhile Gardens easily stands toe-to-toe with any of the excellent (relatively) recent releases by The Damned or Skids. The week I get this to review is the same week I hear Rebellion Festival, which Chelsea were booked to play, is cancelled for a second year. So, no punk rock by the sea for me again this year and no opportunity to see one of the most underrated bands of the genre play. Me so sad!