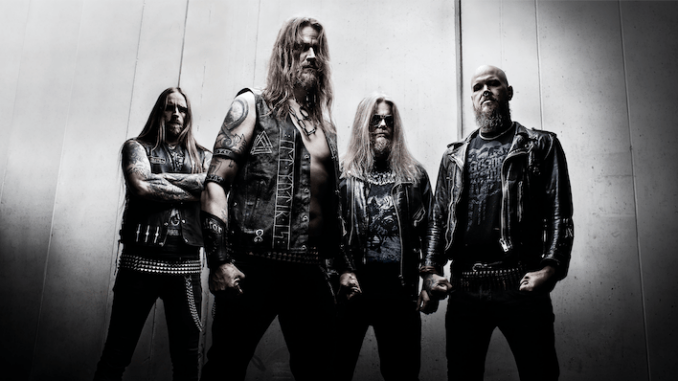 Album Review: Ereb Altor - Eldens Boning
Reviewed by Richard Oliver
Epic is the word that can easily be used to describe Ereb Altor. Forming in Sweden in 2003 by Mats and Ragnar of the doom metal metal band Isole, Ereb Altor have picked up the fallen torch from Quorthon (of legends Bathory) continuing the legacy and paying homage to the sounds and styles pioneered by Bathory in the latter half of their career whilst also forging their own path with a sound that incorporates elements of black metal, doom metal and folk metal.
Eldens Boning is the latest release from the band and is a four song E.P. titled Eldens Boning. The four songs showcase the versatility of the band and sees them in typically rousing and epic form. The Twilight Ship opens the E.P. in colossal style being a mid-paced song with huge vocal lines and massive melodies and is a proper rousing piece of Viking metal. Following is the song that had my arm hairs standing on end and that is Fenrisulven which is an acoustic folk song. This song is absolutely gorgeous containing truly beautiful melodies and a spellbinding mix of violin and acoustic guitars. The title track follows and it is in a far more black metal style with dirty riffs throwing back to early Bathory and Celtic Frost with layers of epic synths and a mix of clean and harsh vocals. Another absolute blinder of a song which is guaranteed to get heads banging. Finishing off the E.P. is Sacrifice 2.0 which is catchy as hell with a great headbangable rhythm to it. Carries on the momentum of sounding massive and hugely epic.
This is a fantastic E.P. from Ereb Altor. With only four songs it left me craving more by the time it had ended. Hopefully this is just a stop-gap release ahead of a new album. It had been a while since I listened to Ereb Altor before listening to Eldens Boning and it reminded me what a brilliant band they are. I might have to go revisiting their back catalogue. If you love Norse mythology and epic sounding metal this E.P. is a highly recommended listen.