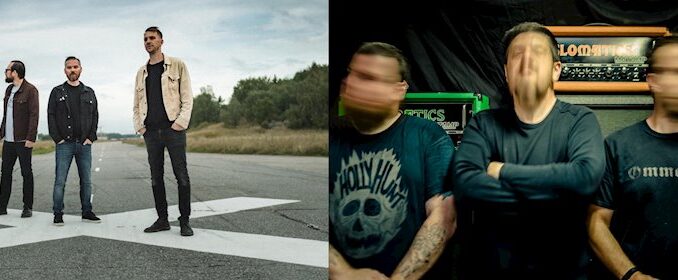 Album Review: Domkraft/Slomatics - Ascend/Descend
Reviewed by Paul Hutchings
It only seemed like two minutes ago that I was getting stuck into the latest split release by Belfast sludge and doom merchants Slomatics but upon checking the archives, it was last August when they teamed up with Australians Yanomamo for a 7" single. How time flies when new music is pouring in.
Always a band I love to have a listen to, Slomatics latest split release sees them join forces with Domkraft, Stockholm titans whose psychedelic sludge provides the perfect companion on this six-track. Three tracks apiece, it's the Swedes who kick things off with their rampaging sonic space sludge of heavy riffs in the shape of 'The Core Will Pull You Home'. It's an eight-minute monster that includes huge sections of stunning guitar work, delivered over a core of rock-solid bass and crashing drumming, and the harrowing vocals of Martin Wegeland. If you like your metal to be full of thick as syrup riffage, heavier than a bus full of elephants and with added cosmic aura, then this should be right up your street. Sandwiched between two behemoth tracks, 'The Brush Descends the Length' is not only a brilliant title but another huge lump of crashing heaviness, with Wegeland's doom laden vocals adding extra to the relentless waves that aurally crash down. Side one is concluded with another lengthy workout. 'And Yet It Moves' is another tasty crushing piece of gargantuan proportions, with added spice given it's a Slomatics original. It's a splendid piece of work.
The Northern Irish trio return the favour on side two with a cover of Domkraft's 'Dustrider', which brings their contribution to a conclusion. Before that you are treated to two other slabs of deliciously deep sludge. The difference between the two bands is instant, the slower, grinding delivery of the Slomatics evident on the behemoth that is 'Positive Runes', a song that ushers in even heavier riffs and punishing intensity. As always, attempting to succeed with seismic shifts in the earth's tectonic plates appear to be the intention for Slomatics, such are the shock waves generated by this bruising track. The midpoint is just as punishing, with the riff that opens 'Buried Axes on Regulus Minor' capable of cracking open concrete. There's even a bit of synth buried deep in the track, which adds to the haunting delivery.
Ultimately, 'Ascend/Descend' isn't going to grab millions of new fans. It should be on your list to sample at the very least, for it is a massive piece of work and another impressive addition to the discography of both these formidable outfits.