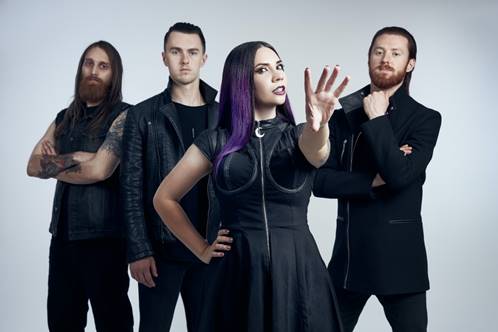 Album Review: Skarlett Riot - Invicta
Reviewed by Paul Hutchings
Rising UK modern metal outfit Skarlett Riot are poised to hit new heights with their latest record, the powerful and impressive 'Invicta'. The band have undergone a line-up change since their sophomore release 'Regenerate' in 2017 and the new album shows a new and fresh energy within the Scunthorpe based quartet.
Led by the fabulous vocals of Chloe 'Skarlett' Drinkwater, this is another collection of anthemic hooks which will be stuck in the head for several hours after you listen. The band have beefed up their sound without losing any of the soaring melodic elements that has made them such an exciting prospect within the UK metal scene. Bassist Tim Chambers brings the perfect number of growls, never overpowering Skarlett's clean vocals, something that happens too often in many of today's modern metal peers.
Whilst the band's star quality is the vocal performance, this shouldn't detract from a muscular performance from the musicians in the band. There is ample opportunity to headbang and jump around. The riffs are relentless, the rhythm section of Chambers and drummer Luke Oglesby allowing guitarist Danny Oglesby to unleash a torrent of ferocious solos and driving riffage.
It's rare that albums come with no filler these days but there is nothing that sits in that category on 'Invicta'. 'Breaking the Habit' is the perfect opener, raising the tempo and encouraging the blood to pump fast. Closing track 'Human' is now an old song, having first appeared in late 2019, but the themes of humanity are even more relevant after the past year. Such are the challenges of the pandemic that Skarlett Riot had the rug pulled under them as they were in the studio as lockdown was announced. It took until the summer of 2020 to complete the recording, but the wait has been worth it.
There may be glimpses of the band's influences, such as BFMV, In This Moment and Trivium, but Skarlett Riot have very much their own sound which is evidenced on songs such as 'Black Cloud' 'Not Alone', and 'To The Flames'. I was limited in my knowledge before I got involved in this album. That's no longer the case and its very much time to appreciate one of the UK's rising talents.