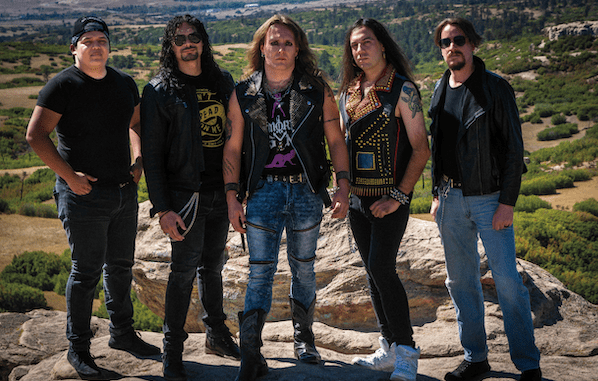 Album Review: Immortal Sÿnn - Force Of Habit
Reviewed by Paul Hutchings
If I had to pin a label on Denver five-piece Immortal Sŷnn after hearing this album it would have to be 'average'. The band's blurb cites a range of influences from Bay Area thrash to NOWBHM and that's a fair enough statement. Although they are clearly competent musicians their song writing is generally rather forgettable.
Formed way back in 2004 whilst founder and guitarist Tony Z was in high school, it took until 2017 for the band to release their debut 'Machine Men'. The band underwent a number of line-up changes, with new guitarist Brad Wagner able only to contribute a few solos whilst bassist Frantz Pierre is not featured on anything apart from the rerecorded single 'Anamesis'. The arrival of new vocalist Duel Sharpe brings a melodic glam feel to the sound of the band, which is a jarring juxtaposition to the thrashier elements of the band's music, which is solid if unremarkable. The use of harmonies and combined vocals from other band members pushes Immortal Sŷnn more towards the power metal and NWOBHM sound. I doubt that die-hard thrash fans would warm to this too much.
There is a combination of styles which work reasonably with some of the subject matter. This is somewhat confusing at times. Songs that deal with femicide are completely at odds with the title track and the dreadful, misogynistic album cover which shows a well-endowed nun handcuffed to a four-poster bed by rosary beads, thighs uncovered and surrounded by empty bottles of wine whilst a shadowy male figure stands in the doorway. It's astonishingly poor taste and detracts substantially from the music.
The Anthrax/Mordred style rap crossover style of 'F.U.D.C.' is interesting and a change of tempo but perhaps the most noteworthy song on the album is 'The Ballad of Marvin Heemeyer'. Now, I was unaware of who this dude was but a quick google discovered that he was a disgruntled citizen in a town about 50 miles from Denver who in 2004 embarked on a three-hour destruction spree in his 'killdozer', a reinforced bulldozer that he had spent the previous 18 months modifying. It's a tragic story as he ended up killing himself. The song is one of the better and thrashier songs on the album and works well, doing justice to one man's ultimately fatal fight against the system.
Elsewhere, there's humour on the speed-filled one -minute 'The Mailman Song', one of two songs that feature Tony Z on lead vocals. The punishing battery of 'Nuclear Terror' is a solid thrasher whilst 'Satan's Tavern' is marred by some more harrowingly screechy vocals and a random burst of 'The Drunken Sailor' which sees the band step into Gama Bomb, Alestorm and Fury territory.
This is a conflicted and confusing album. There are parts which appeal due to the chugging riffing, some blistering guitar work and the segments of blasting speed which tick many of my boxes. But I'm not over-enthused with Sharpe's vocals, influenced as they are by the likes of Cinderella, Dirty Toyz and Motley Crue. And that album cover really rankles. If I saw it in a store, it wouldn't even warrant a quick once over. Overall, an average record which won't standout amongst the deluge of quality that is on offer in 2021.