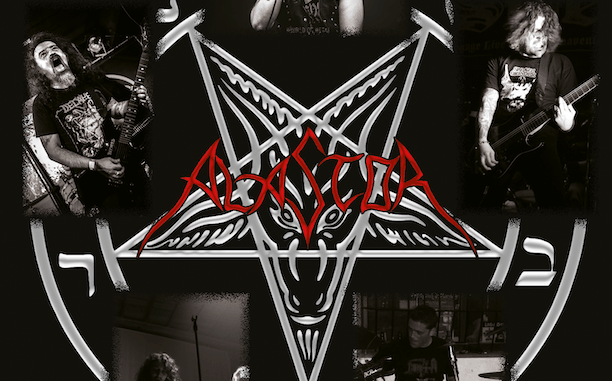 Album Review: Alastor - The Unholy Hordes
Reviewed by Paul Hutchings
With limited background information it's sometimes a punt into the dark to find out details of the band you are reviewing. Alastor formed in 1988, mainly as a two-piece featuring José Afonso the driving engine of the band. It wasn't until 2000 that the band were able to release their debut record, Crushing Christendom. A further five full-length releases followed, the most recent the 30th anniversary celebration in '… the Dark Tower'. Now, with new vocalist Lex Thunder on board, album number seven arrives in the shape of 'The Unholy Hordes'.
It's a difficult album to review. A mix of darkened black metal and full-on thrash, the band sing in Portuguese, something which works well but limits my interpretation of the songs. Not their issue, but they could be singing about rabbits and unicorns for all I know. Somehow, given the gritty approach, I doubt that.
The vocals are going to be an acquired taste for sure. High-pitched, double tracked, and at times ear-splitting, they are a bit marmite. I can't see anyone saying, "those vocals are okay". It's either going to float your boat or not. Musically, there is a wide range of influences from traditional heavy metal, through to Slayer and Venom, Bathory and Celtic Frost. It's a battery for the senses and for the most part it's an album that works.
The blistering all-out thrashers tend to work better, albeit the King Diamond-esque high pitched screams do grate after a while. Alastor have managed to retain a raw, jagged feel to the album, something that is impressive as one would imagine after six albums that they would be smoother, more polished. It's got the feel of an old school production that works in the band's favour, as their music isn't designed for progressive level mastering. This works because it is gritty, dirty and super thrashy.
The slower tracks, and there are a few on the album, tend to sit more in the traditional metal camp and whilst they are full of heavy riffs and big drumming, they don't grab quite as instantly as the pure thrash assault. Having said that, 'Que Se Abram Os Portais' ('To Open the Portals' (or something like that!)) is a very solid track which shows the band's strengths in style. There's even some Maiden-style guitar work on the likes of 'Com Mil Demonios' ('With a Thousand Demons') which surfaces through a cloud of brutal thrashing.
The blackened feel is never far away, and it fits neatly into the style of this popular genre – think Nightfighter, Hellripper, Graveripper, Midnight and you're in the right ball park, if a level below. If you enjoy your thrash with dirty hands and an authentic, roughhouse approach, then Alastor's latest release may well be worth checking out.